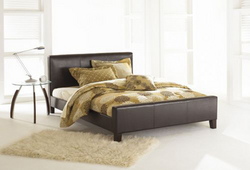 New lighter bedding can help you sleep well when it gets hot and give an inexpensive new look to your bedroom.
Houston, TX (PRWEB) June 8, 2010
As summer quickly approaches, Home and Bedroom is adding a new group of Metal Beds and Daybeds to its offerings from Fashion Bed Group. Fashion Bed Group is one of the largest suppliers of Metal Beds, Daybeds, Futons, and Bunk Beds in North America. It has been an integral Home and Bedroom product line for years. The online provider of discount bedroom furniture is celebrating the start of warm weather with a sale on its already well priced inventory.
In an article titled "Sleepless blues in summertime," Halifax's "Evening Courier" recently reported, "One in three of us suffer from summer insomnia on a regular basis, and practically 100 percent have been affected at some time or other." The number one culprit behind this inability to sleep is the heat and humidity that summertime brings with it.
To overcome this sticky heat, AskMen.com recommends building "a traditional New England sleeping porch: a fully windowed room (but with screens during the summer) built to let the breeze blow through your sleeping quarters." And once that porch has been added on, a Fashion Bed Group Daybed will allow homeowners to enjoy the perks of their new addition both day and night. As the "Kansas City Star" recently pointed out, "Outdoor living is a great way to get more space out of your house, which is useful in this economy when people aren't moving to bigger homes as frequently."
To keep cooler on warm summer nights, AskMen.com also suggests changing one's "bedding materials to those that retain less heat." New lighter bedding can help you sleep well when it gets hot and give an inexpensive new look to your bedroom. Memory Foam Mattresses with open cell memory foam can also help eliminate sleep interruptions from overheating
Customers can get an additional 10% off Home and Bedroom's already discounted prices by entering the code "summer" on any product page through October 31st. To see all of Metal Beds and Daybeds Fashion Bed Group Products as well as those by Hillsdale Furniture and Pastel Furniture's Wood and Metal Bar Stools go to http://www.home-and-bedroom.com.
###