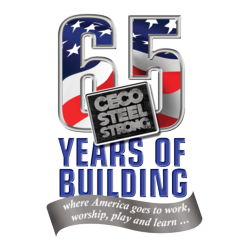 The caliber of people and their many years of experience has established Ceco as an industry expert and is what builders appreciate the most.
Columbus, MS (PRWEB) August 08, 2012
Ceco Building Systems' commitment to quality, innovation, and service established it as a leader in the custom designed metal building industry. Today, these same qualities continue to keep Ceco at the forefront of the industry, making Ceco the supplier of choice for metal building systems of every size and complexity.
Widely acknowledged as an expert in metal building design, fabrication and construction, the superior sales and technical staff at Ceco play a major role in its success. District sales managers, estimators, project managers, engineers, detailers, and all support personnel, partner with our Builders and contractors from start to finish achieving successful projects. "The caliber of people and their many years of experience has established Ceco as an industry expert and is what builders appreciate the most," said President Roger Burlingame, the seventh president of Ceco Building Systems.
Since its inception, Ceco has been a pioneer in the metal building industry and has set the standard in product innovation, quality and service. Joining the NCI Building Systems family has enhanced Ceco's product offerings to include simple and quickly delivered CBS-Xpres buildings, insulated wall panels and roof panel systems, and other products such as Long Bay joist systems.
The culture of innovation, performance and exceeding expectations is obviously still prevalent at Ceco today. "Many bright and dedicated people spend their entire career with Ceco and we acknowledge their dedication, leadership, drive for performance, problem solving skills and innovative solutions that have proved indispensable to Ceco and our Builder network," said Burlingame.
Over the course of 65 years, Ceco Building Systems has designed and manufactured more than 125,000 buildings ranging in size from small retail stores to million square-foot warehouses. "The achievements realized by Ceco over the years have helped make metal buildings highly competitive over other building methods. Our aggressive efforts, experience and confidence allow Ceco to exceed expectations and address even the most complicated challenges," Burlingame added.
Ceco continues to innovate with building designs which are attractive, energy-efficient and customized to meet specific space and function requirements of the most unique and demanding projects. "We are committed to providing our customers with quality products that result in the best possible building performance. We recently produced a building that can withstand a 250 mile-per-hour wind," says Mike Round, V.P. of Sales Southern Region, a 45 year veteran with Ceco.
"The future of Ceco is reflective of our past," Burlingame noted. "We have the people and the Authorized Builder organization to ensure that we are providing the market with the quality and innovation that has earned us the reputation of 'Ceco Steel Strong!'"
About Ceco Building Systems
Ceco Building Systems, a leading division of NCI Building Systems, designs and fabricates attractive, energy-efficient, affordable, easily expandable and "function-oriented" metal buildings. Ceco is well-known for its local builder support and design collaboration to meet specific space and functional requirements of all projects. Ceco Building Systems services more than 700 Authorized Builders from its facilities in Columbus, Miss., Rocky Mount, N.C., and Mount Pleasant, Iowa. For more information visit http://www.cecobuildings.com.
About NCI Building Systems, Inc.
NCI Building Systems, Inc., is one of North America's largest integrated manufacturers of metal products for the nonresidential building industry. NCI is comprised of a family of companies operating manufacturing facilities across the United States and Mexico, with additional sales and distribution offices throughout the United States and Canada. To learn more about NCI, visit http://www.ncigroup.com.
###