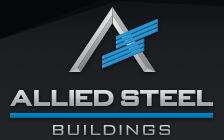 Thankfully, AlliedBuildings.com had this handy little guide!
Fort Lauderdale, FL (PRWEB) April 01, 2013
Allied Steel Buildings is at the forefront of the prefab steel building industry. With a distribution base in more than three dozen countries, AlliedBuildings.com is the top choice for custom designed steel building kits. Allied offers the full gamut of services that clients need to make their dream project a reality, including: design, engineering, fabrication, delivery, and construction management. Their success is based in their in house customer service team, and their drive to succeed through innovation. Their buildings meet all local code buildings and are eco-friendly. Allied Buildings caters to a wide range of clients – from governmental agencies and corporations, to small town churches and schools in Africa.
Despite their wide reach, many potential customers are unsure whether or not metal buildings can meet their needs, or even how to determine which plan is best for their project. So AlliedBuildings.com launched an informational marketing campaign to educate the general public about how to choose the right kit for any desired plan. "AlliedBuildings.com has the right plan for your project. No project is too big or small. Even if you're not sure what layout is the right fit for you, we can design a floor plan that is perfect for you. That's why we made this guide," explained Alexandra from Alliedbuildings.com's project management team.
The guide details the different types of buildings that Allied has experience designing and creating. With 3,500 buildings under their belt, Allied Steel Buildings has created equestrian/riding arenas, schools, recereation centers, churches, airplane hangars, community centers, workshops, military facilities, and a wide variety of homes. The guide details what factors should go into the decision making process for metal buildings, and how to choose the right layout and features.
"I had been researching different types of homes to buy our daughter and her fiance, when I happened upon metal buildings as a possibility. But I wasn't sure if it would fit all our criteria. Thankfully, AlliedBuildings.com had this handy little guide! Now we know exactly what kind of home we want our future grandchildren to grow up in. I'm very excited," said Mary of Wisconsin.
This guide is available for a limited time. So call Allied Steel Buildings at today at 1-877-997-8335, or visit AlliedBuildings.com