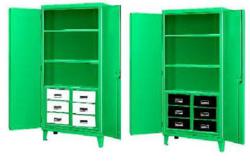 The Mega Deal is The Best Metal Cabinets Deal We Ever Offered
Dallas,TX (PRWEB) April 30, 2012
Metal Cabinets are a top selling line, and A Plus Warehouse has an installed base in the thousands nationwide for a variety of Metal cabinets. A Plus Warehouse is now running the Metal Cabinets Mega deal. The Mega deal will allow customers on the fence to make that big purchase being comfortable knowing there is great value. A constant challenge in metal cabinets is that they are expensive to ship. The vast majority of metal cabinets A Plus Warehouse sells is assembled or all welded. Customers appreciate this, as unassembled storage cabinets have a tendency to get damaged, and are at times difficult to put together. The metal cabinets mega deal helps to allay shipping charge worries.
Shipping charges include a fixed pick up and drop off amount. This amount is a large percentage of a small shipment. Since these fees are fixed – for the most part, larger shipments experience a lower percentage of the total for pick up and drop off. In the metal cabinets mega deal, customers will benefit from the economy of scale. A Plus Warehouse will set a maximum shipping charge for ANY metal cabinets order at $1000 for dock to dock business delivery with no inside delivery or other additional charges allowed. This will have no effect on a smaller order – since a $500 metal cabinet would not ship for $1000! The deal starts making great sense at $4000 and greater. $50,000 of metal cabinets for a shipping bill of $1000 is a seriously great value. The offer applies to orders placed at published prices – obviously.
According to Ed Stairman, "The Metal Cabinets Mega Deal is the best metal cabinets deal we have made yet." Mr. Stairman speaks the truth on this. A Plus Warehouse has offered percentage discounts, special colors at no up charge and last years' model offers before, but never a freight ceiling offer. The motivation was to offer great values to the market, and allow A Plus Warehouse to participate in large dollar value metal cabinets orders as well. The Mega Deal is a win/win proposition with customers getting a great value, and A Plus Warehouse providing great products in a higher unit volume.
Why should a customer count on A Plus Warehouse for metal cabinets? That answer is simple. A Plus Warehouse has been a trusted source for material handling equipment and storage cabinets for over 16 years , offering customers great service and fair pricing coast to coast. The products at A Plus Warehouse are excellent products made in USA for the most part. Metal cabinets are made in Ohio, Kentucky, Illinois , and Texas. A Plus Warehouse operates a centralized call center with American workers only. This family business has never outsourced anything , and the intention is to stay put!
Feel free to call the A Plus Warehouse sales staff at 800-209-8798 between 7am and 6pm eastern time. All quotations are free and involve no commitment (other than to consider them , obviously)
The team at A Plus Warehouse looks forward to being of assistance.