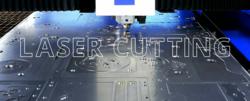 The art of using lasers in metal manufacturing takes precision to a new level.
Seattle, WA (PRWEB) June 17, 2013
Cutting Edge Laser, a company that specializes in metal fabrication, recently released a report on what metal fabrication can do for consumers in today's society. Metal fabrication is a process where complex equipment is used to create specialized metal parts. Metal fabrication is used in the designing of many different types of complex machinery. Whether that is cars, boats, planes or even large steel buildings, the fabrication of metal is used in the manufacturing process.
"Metal fabrication saves time, money and wasted material. You can keep all three of these things by choosing a sheet metal manufacturing company that specializes in the use of the latest cutting edge technology known as laser cutting. Laser cutting produces higher quality, defect free parts. The precision of the laser considerably reduces the chances of mistakes and allows the manufacturer to form more intricate designs."
The art of using lasers in metal manufacturing takes precision to a new level. Using lasers allows for the designer to make the detail they had always dreamed was possible. With laser technology, the door is open for people to dream up new designs for product innovations and to have their dreams become a reality. This will result in new and exciting possibilities that the whole world will enjoy.
CEL Manufacturing has been serving the needs of Washington in the area of metal fabrication, since 1995. CEL has made it a point to keep up with all the newest technologies in order to better serve their customers with the best and most cost effective service possible. Over the years, design and engineering has become a vital part of how they help their customers receive the best possible product for their needs.