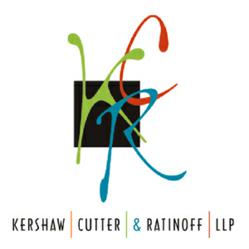 "Every year, thousands of people are injured or die as a result of defective medical devices being released to the public."
Sacramento, CA (PRWEB) February 15, 2012
Kershaw, Cutter & Ratinoff reports that early findings from an in-depth British study of 72 patients reveal genetic damage to the bladders of 17 patients. Of the 17 injured by the metal hip replacements, three developed "full-blown cancer."
The medical device lawyers at Kershaw, Cutter & Ratinoff were among the first to report about the DePuy hip replacement recall in August 2010, in which over 90,000 metal hip implants were recalled due to a flaw in the design. The firm has a history of successfully battling DePuy parent company Johnson & Johnson over defective medical devices.
"Over the past eight years I and my partners have been involved in a constant state of litigation against Johnson & Johnson. These include cases arising from the recalls of Vicryl Sutures, Panacryl Sutures, and Intergel. All of these cases were heavily litigated and resulted in settlements shortly before trial. Hence we have a unique appreciation of how Johnson & Johnson does business and really know where all the bones are buried," stated medical device lawyer and Kershaw, Cutter & Ratinoff partner Stuart Talley.
Shortly after the recall was initiated, the firm hired an expert in metal toxicology so that they could better understand the long term health implications of the metal wear debris created by friction of the implant's metal ball and cup joint. From that information, they launched a website featuring excerpts from their interview with the expert, who indicated that there very well could be a link between metal wear debris and diseases such as cancer.
As stated by the expert, the metal debris generated from this friction can create an inflammatory process, which "can also affect the body's immune response by infiltrating the T-lymphocytes, or T-cells, that drive up the body's hypersensitivity response."
This, according to their website, "may possibly contribute to neurotoxic outcomes, as well as carcinogenesis, or cancer."
"This new research confirms what our expert concluded, and what we reported last year," observed Talley, who attended a Senate Hearing Committee meeting last year to urge the FDA to revise its process for approving medical devices. "Every year, thousands of people are injured or die as a result of defective medical devices being released to the public. Recent studies have shown that most of these devices were approved through the FDA's fast track process where little or no testing is required."
Since that hearing, a formal bill is underway to propose an "accelerated pathway," requiring a narrow initial approval until safety and efficacy are proven in clinical trials.
In light of the study's findings, Kershaw, Cutter & Ratinoff encourage hip replacement patients to discuss their situation with a medical device lawyer before it's too late to make a claim. Most states have time limits that restrict how long a person can wait after they learned of their medical issue before making a claim against the negligent party, and for many this time is drawing near.
Kershaw, Cutter & Ratinoff represents plaintiffs in personal injury lawsuits, product liability cases, and complex litigation. They have demonstrated their ability to devote substantial resources to lawsuits involving large corporations, generating hundreds of millions of dollars in recoveries for their clients and the classes they have represented.
•http://www.telegraph.co.uk/health/9061781/Hip-replacement-patients-could-face-increased-risk-of-cancer.html
•http://www.telegraph.co.uk/health/9047087/Health-warning-over-hip-implants.html
###