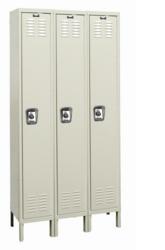 Don't be surprised by Christmas. Order Metal Lockers before the summer rush!
New York,NY (PRWEB) March 15, 2012
A Plus Warehouse, a national metal lockers distributor reminds companies to order metal lockers before the summer rush. Metal lockers ship from stock most all of the year, but the summer months are very hectic with schools making large orders for late summer early fall delivery. For this reason, A Plus Warehouse suggests ordering metal lockers before the crowds form. According to Ed Stairman, "Customers should never be surprised by Christmas. Metal Locker buying season will happen in the summer, and lead times will be negatively affected" Order metal lockers now, and avoid the hassle of extended lead times.
A Plus Warehouse distributes lockers from several excellent sources. These manufacturers include but are not limited to: Hallowell, Penco, Lyons, Edsal, Republic, ASI, Pucel, Parent , and Tennsco. Each manufacturer produces a product that fills a necessary and important niche. Hallowell produces an excellent corridor locker while Penco is known for their Vanguard series. Edsal produces their Citadel in Chicago and has wide ranging distribution. ASI has a great line with many colors while Tennsco produces metal lockers without legs as a standard. Pucel – with their new lean manufacturing can produce specialized metal lockers in small batches at amazing speed!
A Plus Warehouse has lined up vendors with exceptional quality and salespeople with exceptional customer focus and product knowledge. Clearly A Plus Warehouse is able to help with most any metal locker requirement.
When considering metal lockers, customers should also locker room benches. Customers don't always know that the dealer they get one item from can supply related items and save them money. A Plus Warehouse is truly an integrated materials handling dealer , as the company offers conveyors, casters, work benches, shelving, pallet racks, loading dock equipment and metal lockers as well! Many customers that order metal lockers also need storage cabinets. A Plus Warehouse is storage cabinet central!
It is worth mentioning what defines a storage cabinet. Storage cabinets have full width shelves while wardrobe cabinets have one full width shelf and a coat rod below it. Combination cabinets are a combination of the two. A Plus Warehouse provides storage cabinets that are produce by the very same companies that manufacture metal lockers!
A few words about the company:
Founded in 1996, A Plus Warehouse provides high quality materials handling and storage cabinets in USA and Canada. The company also provides equipment to the US Government worldwide. A Plus Warehouse strives to exceed all customer expectations.