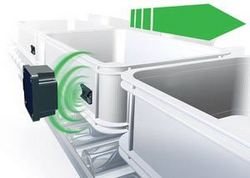 Florence, KY (Vocus) April 23, 2009
Balluff is introducing a new direct metal-mount or "M-M" RFID (Radio Frequency Identification) system designed to provide tough industrial track-and-trace capability to any manufacturing, assembly or closed-loop logistics process using a non-contact, ISO 15693 compliant passive data carrier technology. This new technology allows the RFID "tag" to be mounted directly on any alloy or metal surface without the typical interference or loss in range.
Greatest Flexibility
Balluff's M-M tags and heads are a new technology in the BIS M series developed by Balluff for flexibility. They offer a range of 52mm to 65mm regardless of the alloy content of the metal, including aluminum, which tends to cause the most loss in range for passive RFID. These new tags are contained in a robust, compact housing to allow flexible mounting and sustainability. Designed to operate in temperatures ranging from -25°C to as high as 130°C for up to 1000 hours of continuous, idle exposure as well as being passive requiring no batteries, means these tags are maintenance-free. There are two industrial head options to choose from, both designed for maximum read/write performance. One is a self-contained processor and read/write head with a built-in RS-232 serial interface. The other is a read/write head in an identical housing but it can be connected to any of Balluff's several remote processors. Using a remote processor expands the communication options to include DeviceNet, Profibus, Ethernet/IP and TCP/IP, Modbus-IP or even the new ProfiNet Ethernet bus.
Highest Utilization and Reliability
The new M-M ID system greatly improves the flexibility of mounting RFID in industrial applications. These tags can now be mounted directly on metal pallets, totes or even directly on parts without the use of plastic "spacers", which minimizes complexity and reduces installation costs while providing consistent and reliable read/write performance. In combination with Balluff's exclusive read-confirmation technology, this metal-mount RFID system provides reliability second to none in today's market while maximizing visibility to any process.
For further information, visit: http://www.balluff.com/rfid .
Download high resolution press images and see full press release online: http://www.balluff.com/Balluff/us/NewsChannel/Press+Releases/en/2009-04+Metal+Mount+RFID.htm .
Balluff Inc., the U.S. subsidiary of Balluff GmbH, Neuhausen, Germany, is a leading manufacturer of a wide range of inductive, optical, capacitive and magnetic sensors as well as linear position transducers and ID systems. Balluff products for OEM and factory floor solutions are used to control, regulate, automate, assemble, position, and monitor manufacturing, assembly, and packaging sequences for industries including metalworking, automotive, plastics, material handling, wood processing, aerospace, electrical, and electronics.
Editors: please contact Vestal Simms or Kelly Panko at 1-800-543-8390 for clarifications and additional information, or e-mail vestal.simms(at)balluff.com, kelly.panko(at)balluff.com
Direct reader service inquiries to:
Press Manager
Balluff Inc.
8125 Holton Drive
Florence, KY 41042
1.800.543.8390
http://www.balluff.com
In Canada only, contact Norman J. Clarke, President, Balluff Canada, 2840 Argentia Road, Unit # 2, Mississauga, ON L5N 8G4, Phone 1-800-927-9654 or Tel: 905-816-1494, 905-816-1411, E-mail: balluff.canada(at)balluff.ca
###