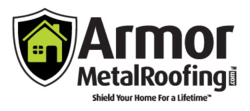 Metal roofing systems will reduce electricity costs and improve energy efficiency of a home.
(PRWEB) May 28, 2012
With the recession constricting finances, homeowners are searching for ways to reduce energy costs especially now that Summer is here and air conditioning systems will be turned on to keep cool. However, summertime in New Hampshire, Maine and Massachusetts can bring irritatingly hot days in which humidity levels are high and comfort levels are low. Fans keep sticky air circulating but do not cool it. Air conditioning brings relief but the cost of running an AC unit several hours each day makes catching up on winter energy bills almost impossible. Fortunately a professionally installed Metal Roofing System will significantly lower electricity and gas bill costs associated with cooling a home or business, while reducing the need to run air conditioning during those hot summer months.
Comparison of a Metal Roof vs Traditional Asphalt Shingle Roof.
Replacing traditional roofs with aluminum metal roofing can effectively keep a home insulated and cool when intense sunlight and moist air combine to generate temperatures in the upper 80s and 90s. Metal, especially aluminum, is a material capable of reflecting sunlight and the radiant heat it produces. Metal reflects up to 70% of the sun's radiation and loses its heat easily, keeping the roof cool. This results in less heat being transferred inside a home. Moreover, the thin, ribbed-shaped aspect of metal roofing acts to dissipate and eliminate thermal molecules constituting ultraviolet rays and keep home interiors as cool as homes using central air conditioning.
Traditional roofing shingles tend to absorb heat and act like hundreds of conductors by releasing the heat into a home once they absorb a certain amount of sunlight. This is why a home feels extremely hot during mid-afternoon when the summer sun is at its strongest. Metal roofing gains 34% less heat than traditional asphalt shingles. Cooling energy reductions of up to 27% were achieved in tests on metal roofing. (Florida Solar Energy Center).
Cool Roofing and Cool pigment technology is available as an effective metal roof solution for keeping a home cool. Cool Metal Roof colors have been shown to produce these significant savings in HVAC costs. Cool Metal Roof colors also may qualify for certain tax and energy credits.
With global temperatures continuing to rise, even New England states like New Hampshire, Maine and Massachusetts are feeling the affects of warmer summers by experiencing temperatures several degrees higher than normal.
Metal Roof Benefits.
In an effort to reduce energy bills, many homeowners are choosing to implement metal roofs that are professional installed by licensed contractors. Other benefits of metal roofing over shingles include:
 Low maintenance
 Extremely durable and lasting for up to 60 plus years
 Eases structural stress on homes due to its lightweight nature
 Increases value of a home
 Impact resistant (versus other forms of roofing)
 Comes in Many Beautiful Colors and Styles that add aesthetic curb appeal
 Provides enhanced protection against fire, ice, snow, hail, hurricanes, or gale-force winds (most metal roofs can withstand wind speeds over 180 miles per hour)
 Reduction in energy costs by as much as 25 percent
 May lower home insurance rates (this varies among states)
 Most metal roofing products are crafted here in the USA keeping the American labor force employed and empowered locally.
 Is a green recycled product good for the environment.
 Metal roofs are typically comprised of 25-35 percent recycled material and are virtually 100 percent recyclable at the end of their useful life.
 With Metal Roofing homeowners will never have to SHOVEL a roof again. (Snow Slides Off)
Additionally, metal roofing panels come in a variety of styles to accommodate many aesthetic designs, such as standing seam metal roofing, metal slate roofing, exposed fastened corrugated metal roofing panels and metal tile roofing.
Metal roofing panels need to be installed by expert technicians due to safety issues involving sharp edges, panel kinking, oil-canning or scratching panels. Additionally, if a shingled roof is leaking, curling, blistering, rotting or in a state of disrepair.
About Armor Metal Roofing, a Professional Metal Roof Contractor.
Armor Metal Roofing technicians can take off the old asphalt shingled roof layer(s) and lay down new metal panels that provide a home with a dazzling makeover and a budget with substantially reduced energy costs. Don't just settle, Get Metal from the Team of Professionals at Armor Metal Roofing. Since 1986, Armor Metal Roofing has been providing homeowners in New Hampshire, Maine and Massachusetts with value and smart Investment decisions on roofing, window and siding solutions. Call today for a Free Estimate and Roof Assessment. To learn more, visit http://www.armormetalroofing.com.
Armor Metal Roofing Maine Location:
647 US Route 1, Unit 14, York, Maine, 03909 – Call 855-772-7667.
Armor Metal Roofing New Hampshire Location:
180 Lafayette Road #1, North Hampton, NH 03862 – Call 855-772-7667.