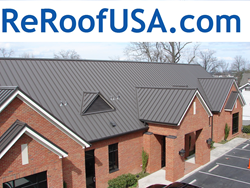 Best Metal Roofing Company in Jackson Tennessee
Jackson, TN (PRWEB) March 05, 2015
ReRoof USA recently completed another successful roofing job at North gate Storage located at 3308 North Highland Avenue in Jackson, Tennessee. ReRoof USA specializes in metal roofs for new construction, storm damage repair & replacement, and retrofits in and around Jackson, TN. For more info call 770-456-1611 or visit the website at ReRoofUSA.com.
The North Gate Self Storage facility is open 7 days a week. They feature a 24 hour web based video surveillance system, drive up dry storage and climate controlled units in many different sizes, RV & boat storage, extra large storage units, personal key code gate entry with 24 hour access, parking for all sizes of vehicles, and climate controlled units as well as non-climate units which is what they refer to as drive up storage.
This first rate storage center is a great choice for anyone needing this type of service in the Jackson, Tennessee area. For ReRoof USA this project consisted of 1 single level building about 38,305 square feet in size. A standing seam metal roof was installed which is a wise choice for business owners because metal roofing lasts a very long time.
Metal Roofs are perfect for business owners who want to install solar panels on commercial buildings in Jackson, Tennessee. ReRoof USA is a metal roofing installation contractor serving Jackson, TN and the entire Eastern United States with services for new construction, retrofit roof systems, inspections, storm damage repair, and much more. For more information call 770-456-1611 or visit the website at ReRoofUSA.com.