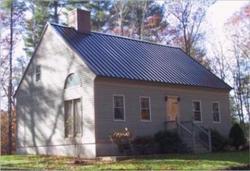 Insider's Guide To Metal Roofing
Boston, Massachusetts (PRWEB) August 30, 2007
Classic Metal Roofs LLC, serving Southern New England, now offer homeowners in Massachusetts, Rhode Island, Connecticut, and Southern New Hampshire a Metal Roofing system that will outlast any traditional roof by years, without ever requiring repair. Environmentally friendly, energy efficient, and warranted on the lifetime of the house, homeowners will save money on energy while increasing the property value of their home.
The experts at Classic Metal Roofs are all too familiar with the humid continental summer climates and the cold snowy winter extremes that wear down Massachusetts homeowners' roofs. Positioned along the eastern seaboard this area is also prone to its share of tornadoes, hurricanes, and torrential downpours. Classic Metal Roofs now offers Massachusetts Metal Roofing systems that are energy efficient, durable, and hurricane tested to withstand winds from 110 - 150 mph. Massachusetts Metal Roofs save homeowners' time, energy, and money.
An exclusive dealer of Classic Products for the past 25 years, Classic Metal Roofs uses an interlocking system which not only strengthens the roof's weather barrier against water damage due to seepage, but also strengthens the roof's resistance to hurricane force winds. The only roofing system that can ensure this level of quality and long-life is mold resistant, fire resistant, rust resistant, dent resistant, solar reflective and made of 98% recycled aluminum.
Rhode Island homeowners are all too familiar with the havoc that cruel Atlantic winters and hot humid summers can have on their roofs. Installing a new Rhode Island Metal Roof would eliminate the necessary yearly roofing repairs under gone by homeowners in this area. A Rhode Island Metal Roofing System does not require upkeep or repairs for decades after installation.
Connecticut homeowners deal with frequent rainfalls in the spring, scorching, muggy summers, tropical cyclones during hurricane season, and snowy, freezing winters. When it comes to protecting themselves and their homes it can become quite an arduous task with all the swelling, shrinking, and shaking that roofs endure in this area. Connecticut Metal Roofing Systems eliminate homeowners' concerns about the protection of their home and family under a new Connecticut Metal Roof.
With on average two tornadoes annually, winter blizzards that can black out an entire city, and its share of tropical storms, Southern New Hampshire roofs are put to the test with all of Mother Nature's ferocity. Those homeowners who have already installed a Southern New Hampshire Metal Roofing System on their home already enjoy the benefits of lower energy bills and greater security in the strength, durability, and resilience of their Southern New Hampshire Metal Roof.
The durability and numerous benefits of Classic Metal Roofing Systems have been shown to increase the value of a home on the real estate property market. In the event that the original owner wishes to sells the property, the lifetime warranty for the Metal Roofing system is transferable to the new owner. The Metal Roof requires little to no maintenance over the years, and hurricane tested they provide that extra measure of safety desired by every family.
For more information about the Classic Metal Roofs, LLC, to explore the full line of available products, to make an appointment with a Classic Metal Roofs LLC expert roofer about Metal Roof options for your home, or to sign up to receive a free copy of An "Insider's Guide To Metal Roofing," please visit our official website at: http://www.classicmetalroofs.com. Or call Toll Free: 1-866-660-6668.
Contact Information:
Mike Gonet
Boston, Massachusetts
Classic Metal Roofs, LLC
Toll Free: 1-866-660-6668
http://www.classicmetalroofs.com
###