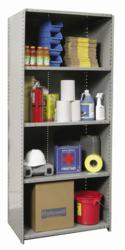 California Customers Deserve a Local Metal Shelving Source - A Plus Warehouse
Los Angeles,CA (PRWEB) February 08, 2012
Metal Shelving is a very popular item at A Plus Warehouse. West coast customers can now enjoy the benefit of local delivery when ordering metal shelving from A Plus Warehouse. Why is ordering local a good idea when dealing with metal shelving? Simply because metal shelving has a fairly low value density, An item with a high value density would be something like a 4G cell phone. A top rank 4g cell phone weighs about 4 ounces and cost about $400. Put another way, a 4G cell phone has a value density of $1,600 per pound – give or take. Now a metal shelving unit that weighs 120 pounds and costs $240 has a value density of $2 per pound. The 4G is 800 times more valuable per pound. Since freight is calculated by the pound and by the mile, lower value density items need to be positioned closer to their intended market. The A Plus Warehouse term for value density is the Hamburger Factor. Part of the value proposition A Plus Warehouse brings to the market is an aggressive placement of products within local markets when the hamburger factor is in play.
Basic logistics aside, A Plus Warehouse is pleased to provide value to customers and speed delivery of metal shelving in the west coast. They are also stocking storage cabinets in Los Angeles as well. According to Jim O'Sullivan, product manager, "Our California customers deserve a local Metal Shelving supplier. We are now able to fill that requirement". Jim has been working diligently with management making his "Hamburger Factor" argument with management in hopes of securing local inventory for A Plus Warehouse California customers. Now Jim's goal has been met, and A Plus Warehouse is ready to run! In celebration of the new metal shelving offering , all California customers that mention Metal Shelving Madness – will get a five percent discount on any Hallowell Metal Shelving order placed before May 1,2012.
When considering a metal shelving order, Mr. O'Sullivan suggests considering starters and adders. An adder unit shares uprights with other metal shelving. By ordering adders , customers save money – since fewer posts are delivered. Additionally, adders that have beaded posts allow for more open shelf space. A Plus Warehouse has the metal shelving customers need from medium duty to extra heavy duty. The shelving is offered in open and closed style as well. Closed style metal shelving could be considered something like storage cabinets without doors.
About A Plus Warehouse:
A Plus Warehouse is a nationwide distributor for Metal Shelving, Storage Cabinets and a wide variety of storage equipment. Feel free to call A Plus Warehouse at 800-209-8798
###