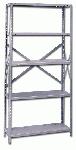 Metal Shelving Madness is Contagious - let's Make An Outbreak
Dallas, TX (PRWEB) March 13, 2012
A Plus Warehouse officially has metal shelving madness! The madness is easily caught by ordering metal shelving from A Plus Warehouse. For the second quarter of 2012, A Plus Warehouse will offer a five percent discount to any customer that informs his sales rep that he has caught metal shelving madness! A Plus Warehouse is known as a conveyors, lockers, storage cabinets and work benches dealer, but customers need to be reminded that the company does a bang up job in metal shelving as well. According to Ed Stairman, President of A Plus Warehouse, "Metal Shelving Madness is Contagious! Let's Make An Outbreak"
The promotion is an all inclusive promotion including all metal shelving. As an added sweetener, the discount will also be offered to any other item ordered along with metal shelving – of equal or lesser value.
A Plus Warehouse offers shelving by Hallowell, Penco, Lyons, Republic, Parent, Pucel, Stronghold, Metro, Nexel and others as well. A Plus Warehouse uses a stockyard concept nationwide to speed along deliveries. A stockyard simply keeps massive amounts of components that are put together into kits for prompt shipping. WITH a Plus' unique stockyard concept, a metal shelving order can ship on a next day basis. When thinking about shelving, A Plus Warehouse suggests you consider starters and adders.
A starter shelving unit has a full set of posts, braces and shelves. An adder lacks two posts and one set of side braces. The missing parts for the adder are shared with the prior unit the adder is being added to. By ordering less metal in the metal shelving order, the result is a lower total price, with no drop in function.
Additionally, customers should realize that closed units can be made more economical by sharing enclosure panels. For example, two units with backs aligned back to back can share the same back panel. A Plus Warehouse salespeople can take your sketch and create an economical metal shelving solution.
When ordering shelving from A Plus Warehouse, please also consider rolling ladders. A Plus Warehouse also provides these items, and most shelving users have to access top shelves somehow – why not with an A Plus Warehouse rolling ladder?
About A Plus Warehouse:
A Plus Warehouse is a national business to business distributor providing customers materials handling and storage equipment. Contact A Plus Warehouse at 800-209-8798 in US and Canada. A Plus Warehouse has been Servicing customers Coast to Coast since 1996.