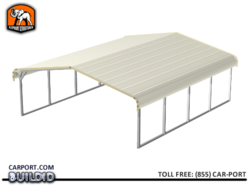 Carport.com made me feel like I understood all of my options, without having to jump through a bunch of hoops! -Kim, carport.com customer
Greensboro, North Carolina (PRWEB) April 10, 2011
Elephant Structures has heard from its customers that they wanted a better way to design their metal structure that actually allowed them to see a picture of what they were building in real time, and to have the cost of all structures clearly displayed for every possible structure that can be built. Carport.com now provides this to our customers by offering trillions of different buildings with prices and pictures just with a simple push of a button.
The patent-pending buildID system on Carport.com allows for the design and pricing of metal carports, steel barns, metal garages, sheds and other steel buildings.
Elephant Structures prides itself on being upfront and clear on pricing, and rewards its customers for choosing to use Carport.com to order their custom metal buildings. Carport.com currently offers online pricing for over 40 states, and partners with service providers of all kinds to make sure all customers get exactly what they need. Prices start as low as $595 on carports, and as low as $2,345 on fully enclosed steel garages!
The steel structures are appropriate to use to cover your RV, boat, van, car, truck, suv, farm equipment, trailer, or just about anything else that you would like to protect from the sun and weather. They can be installed on dirt, concrete pads, blacktop, or other foundation types.
Carport.com is available 24 hours a day online to design your carport, or give them a call at (855) CAR-PORT to speak to one of their knowledgeable steel representatives about your new metal building.
###