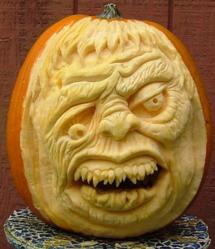 the angle grinder can be used to remove the outer layer of pumpkin and expose the lighter inside core, or pulp, to make hyper realistic faces
Duluth, MN (PRWEB) October 25, 2012
Call all metal fabrication enthusiasts! Gizmoplans, the one stop source for do-it-yourself metal fabrication and woodcraft plans, suggests a new Halloween tradition builders everywhere can appreciate. Using power tools that DIYers' everywhere already have, why not use them to create stunning pumpkin carvings?
The experts at Gizmoplans suggest using the following tools to create a pumpkin masterpiece:
Jigsaw
Just like a traditional carving tool or kitchen knife, a jigsaw can be used to create intricate cuts or just make basic incisions. This versatile tool will easily cut through the pumpkin.
Drill
Circular shapes are incredibility difficult to craft using traditional pumpkin carving tools—using a drill to carve eye sockets, haunting grins and flaring nostrils will create smooth edges making the decoration stand out.
Angle Grinder
Best used on larger pumpkins, the angle grinder can be used to remove the outer layer of pumpkin and expose the lighter inside core, or pulp, to make hyper realistic faces, design and add contrast to the design. This tool is suitable for only larger pumpkins.
"To our family, Halloween really kicks off the holiday season—as it does for so many other families. Using power tools to create fun and inspiring pumpkin designs is something that makes it fun and engaging for everyone involved," said Brian Luoma of Gizmoplans.
About Gizmoplans
Gizmoplans is an online informational website that provides businesses and individuals with downloadable DIY solutions. These plans can be used to build projects for recreation, hobbies, recycling, industry, woodcrafts, metal fabrication, alternative energy and much more. Gizmoplans is also a hub for businesses and individuals to upload and sell their own plans, patterns, how-to ebooks and more. This online marketplace can benefit both the purchaser and the seller in the DIY community. To get more information on DIY plans and DIY projects, visit Gizmoplan's website at http://gizmoplans.com/.