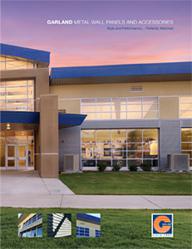 … specifying a wall solution has become increasingly complicated. This new literature clarifies the most critical design criteria
Cleveland, OH (PRWEB) May 28, 2013
Finding the right balance between style and performance is a perpetual challenge for design professionals. The Garland Company, Inc. recently released a new brochure, Garland Metal Wall Panels and Accessories, which introduces building owners, facility managers, architects, and other design professionals to the design capabilities of a variety of high-performance metal walls and accessories.
According to Tom Diamond, P.E., Garland's product manager for metal solutions, "There are so many alternative approaches available on the market today, specifying a wall solution has become increasingly complicated. This new literature clarifies the most critical design criteria, helping readers identify key areas of differentiation, from metal types to panel system assemblies."
Garland Metal Wall Panels and Accessories includes cut-away schematics to illustrate how systems work and photographs depicting a wide range of aesthetic options, including both structural and architectural design solutions. To assist the design process, the brochure also contains a metal color selector chart.
The Garland Company, Inc. is one of the worldwide leaders of quality, high-performance roofing and building maintenance solutions for the commercial, industrial and institutional markets. For over 100 years, Garland has continually developed unique product and service offerings that have raised the bar of performance while exceeding the individual needs of customers throughout the world. Today, our network of over 200 local building envelope professionals is ideally positioned throughout the United States, Canada and the United Kingdom to provide quality roofing solutions for single and multi-property facilities. The Garland Company Inc., headquartered in Cleveland, Ohio, is an ISO 9001:2008 certified company. To request a free electronic or hard copy, visit http://www.garlandco.com or call toll-free to be connected with your local Garland representative at 1-800-321-9336.