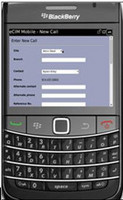 Houston, TX (Vocus) July 28, 2010
Invera has extended use of the call logging function of their customer service portal to Smart-Phone devices such as the iPhone, BlackBerry, and iPad. This enhancement is consistent with their continued commitment and dedication to providing their customer base with an optimum level of customer service. It provides customers with a fast, easy, and convenient way to access Invera's customer service portal from anywhere and at any time without the need for a PC/laptop.
The Smart-Phone functions complement the existing web-based Invera customer services portal. The portal allows customers to log support calls, query the Invera knowledge base for questions on product operations, access new product releases and supporting documentation, review their company and operational profiles, view all general and customer-specific correspondence, and read Invera's monthly newsletter. The new Smart-Phone functions are especially beneficial to the staff responsible for placing support calls to Invera, as it provides a simple and convenient way to contact Invera instantly. Furthermore, Invera's customers can now access the support portal though browsers such as Safari and Firefox.
Feedback from Invera customers on the Smart-Phone enhancement has been extremely positive.
Arjan Lensen – Corus: I tried it on my iPhone and it works great. Very good initiative.
Paul Berk – Drexel Metals: I created a support call on my iPhone, and it was very easy. Great Job!
Simon Laverty – Corus: I logged my first support call on the mobile site. First opinion is that it is easy, better than navigating the full website. Terrific!
About Invera
Invera has been the leading provider of steel and metal service center software and Internet metal systems for over 30 years. Their metal industry software products are used by more than 13,000 users at over 600 sites in the United States, Europe, Mexico, Canada and the Far East.
For more information about Invera, contact Invera at 514-925-8558 or visit http://www.invera.com.
# # #