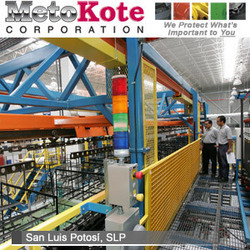 Lima, OH (PRWEB) August 14, 2008
MetoKote Corporation, the industry leader in metal finishing processes, including electrocoat (e-coat), powder coat and liquid paint, is pleased to announce the opening of its newest facility in San Luis Potosí, SLP, Mexico. This is the eighth facility in Mexico for MetoKote which has a total of 38 facilities across North America, South America and Europe.
MetoKote strategically located this facility in the San Luis Potosí area because of the rapid growth in this region and the strong demand for coatings. This central region of Mexico, referred to as Bajio and Altiplano areas, is within a two hour radius of industrial cities such as Queretaro, Aguascalientes Irapuato, Leon and Silao.
This plant currently operates one high production electrocoat monorail line with a part envelope of 36" x 48" x 72". The line is designed to coat small to medium sized parts with a turnaround time of 24 hours or less. This facility also offers light assembly, special packaging for automotive spare parts, labeling, and inventory tracking of customer parts. When at full capacity, the company will employ approximately 50 employees. The plant has adequate room for growth with future plans to add powder coat and liquid paint lines.
MetoKote Corporation, headquartered in Lima, Ohio, services over 1,500 customers throughout the United States and the world. MetoKote provides environmentally sound and cost-effective coating solutions to a wide variety of industries such as agriculture, appliance, automotive, computer, construction equipment, electrical, furniture, industrial equipment, recreational, and truck and bus.
Meeting the demands of such a diverse group of industries requires an equally diverse range of custom coating services and technologies. MetoKote offers a full range of high technology custom coating services, including electrocoating (e-coat), powder coating, liquid paint and other custom coatings. MetoKote is constantly researching and developing new protective coating applications to meet your needs.
The MetoKote "Continuous Customer Focus" is their commitment to customers. It is the ability to direct a custom coating project from the initial opportunity stage throughout the entire project cycle. Their start-to-finish capability allows complete project management of protective coating applications including: evaluation, design conception, solution recommendation, implementation, quality production and process management. Their dedication to continuous improvement in protective coating applications results in additional customer benefits and opportunities, providing expertise and leadership to meet your needs.
# # #