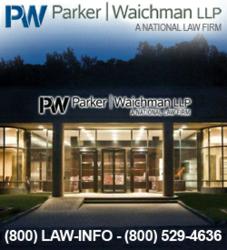 New York, New York (PRWEB) August 31, 2012
Parker Waichman LLP, a national law firm dedicated to protecting the rights of victims injured by defective medical devices, has filed a lawsuit against DePuy Orthopaedics, Inc., DePuy Inc., DePuy International Limited, Johnson & Johnson, Johnson & Johnson Services, Inc. and Johnson & Johnson International on behalf of a man who claims he was injured by the recalled DePuy ASR hip implant. The suit was filed on August 23rd in the U.S. District Court for the Northern District of Ohio, Western Division (Case No. 1-12-dp-23389), where it is one of many cases pending in the multidistrict litigation as part of the In Re: DePuy Orthopaedics, Inc. ASR Hip Implant Products Liability Litigation (MDL No. 1:10 md 2197).
According to the Complaint, the Plaintiff was implanted with the DePuy ASR on his left hip in August 2009. Thereafter, he suffered from pain and weakness in his left hip and leg. The suit alleges that the Plaintiff could not have known that his symptoms were caused by the implant until he became aware of the recall, which occurred in August 2010. The lawsuit is claiming personal injury, economic loss and loss of services on behalf of the Plaintiff. The suit also alleges that the Defendants were aware that the device was faulty, but sold it to patients nonetheless.
The DePuy ASR hip implant is a type of metal-on-metal hip replacement. This means that both the acetabular (hip socket) and femoral (thighbone) components are made of metal. In recent years, this type of implant has come under scrutiny over reports of high failure rates and complications arising from the metal ions released by the device. Concerns peaked in August 2010, when Johnson & Johnson issued a worldwide recall of the devices after data from the National Joint Registry of England and Wales suggested a failure rate as high as 13 percent (1 in every 8 patients) within five years.
The U.S. Food and Drug Administration (FDA) has received roughly 16,800 adverse event reports over all-metal hip replacements in the past decade. The need for revision surgery, which is performed when the implant fails due to complications, was cited in approximately 14,000 complaints. Last May, the agency asked Johnson & Johnson and 20 other manufacturers to conduct post market studies addressing the safety issues with the devices. In June, an FDA expert advisory panel agreed that there is little reason to use metal-on-metal hips for most patients.
In July, a study in Orthopaedics journal found that 92 percent of revisions occur within three years, which is relatively early in the post operative period. The month prior, Chemical Communications journal published a study suggesting that the ions release from metal-on-metal hip implants are genotoxic, meaning that they can destroy a cell's genetic material.
Parker Waichman LLP continues to offer free legal consultations to victims of DePuy ASR and other metal-on-metal hip implant injuries. If you or a loved one experienced premature failure of your implant or other health problems associated with a recalled DePuy ASR Hip Implant or other metal-on-metal hip replacement device, please contact their office by visiting the firm's DePuy ASR hip implant injury page at yourlawyer.com. Free case evaluations are also available by calling 1 800 LAW INFO (1-800-529-4636).
Contact:
Parker Waichman LLP
Gary Falkowitz, Managing Attorney
(800) LAW-INFO
(800) 529-4636
http://www.yourlawyer.com