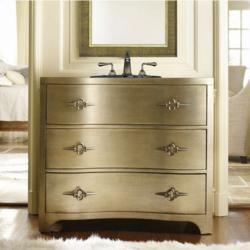 Many designers are starting to incorporate all types of metal into decorative bathroom vanities in a variety of styles and bathroom settings.
(PRWEB) June 27, 2013
HomeThangs.com – the Online Home Improvement Store has made their goal to deliver the right product to the consumer. With that in mind, shopping and home design tips, as well as special product selections are being introduced.
Metal isn't the most common material in bathroom decor. It can be cold to the touch, and many varieties don't hold up especially well in the face of moisture. But many designers are starting to incorporate all types of metal into decorative bathroom vanities. More fascinating still, this isn't even a trend exclusive to a chic modern design, but one that works well with a variety of styles and bathroom settings. HomeThangs.com has introduced a guide to just a few of the styles that make metal bathroom vanities work.
1. Modern
Bathroom vanities either made of metal, painted with metallic paint, or with metal accents are unconventional and a little daring, so it's no surprise that they work exceptionally well with a modern decor. Designs cover a wide range of styles (some more unusual than others), but some of the loveliest are among the simplest: vanities that combine a sophisticated dark wood finish with mirrored metallic panels. This blend of simple lines and old fashioned elements is a great way to add elegance and detail to a modern space, dressing it up just a little without infringing on the simplicity of the design.
2. Industrial
One of the hottest up and coming style trends is the growing popularity of an industrial style. Combining elements of antique farmhouses and turn of the century warehouses, industrial design is a little old fashioned and a little weather worn, emphasizing reclaimed materials and a simple color scheme. Now, in other rooms, this often means pieces made with reclaimed wood or wrought iron. But since both are quite susceptible to moisture, look instead for vanities finished with aluminum or pewter. These are more resistant to heat and moisture, and create a lovely, weathered neutral gray that's ideally suited for an antiqued, industrial style bathroom.
3. Hollywood Glam
On the other end of the spectrum are vanities finished with a soft, glowing metallic finish. Done in antique silver and gold leaf, these vanities aren't quite as bright and reflective as many more eye catching ones coated in solid silver leaf, but they have their own luscious glow that echoes the glamour of old Hollywood. Both subtle and showy, this type of vanity is perfect for a star-studded, dressing room style bath equipped with all the creature comforts.
4. Rustic
When metal is included in a bathroom, it's usually brass, aluminum, stainless steel, or, occasionally, silver or gold. But one type of metal that's really starting to gain popularity is one that gives a very, very different look: copper. Copper holds up well in a moist environment as it's resistant to rust and will actually develop a natural patina over time. Styles range from earthy, burnished copper tones to deep, aged browns, and make a lovely, natural addition to a rustic cabin or ranch style bathroom.
5. Antique
Metal accents are starting to show up in antique bathroom vanities too. Stamped metal panels are a perfect way to add luxurious detail and contrast to an ornate antique style. In the same style category as vanities with exotic wood veneers or even textured leather accents, these metal accents echo the luxury and opulence of Victorian design, adding embellishments made of valuable materials wherever possible.
6. Urban Chic
Some of the most dramatic metal bathroom vanities are ones that are highly reflective. Typically made either of bright stainless steel or silver leaf, these vanities have a near-mirror quality and are polished to a high shine. This metallic finish applied to an antique design makes a dramatic statement piece for an urban chic decor, combining the opulence of old world style with the aggressively unusual appearance that makes for a striking modern design.
To see more of these gorgeous metal bathroom vanities, read the full article here or check out more gorgeous pieces from Cole+Co.
HomeThangs.com is not only a home improvement superstore, it also provides expert design tips and a comprehensive shopping guide, taking the ideas from professional interior designers, and offering tips to the consumers on how to pick the products to best suit their needs.