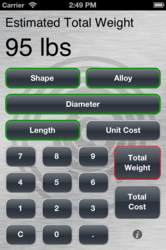 Wyomissing, PA (PRWEB) November 17, 2011
Carpenter Technology Corporation today announced that it has launched MetalMass™, a free smart phone app for iPhone/iPad. MetalMass is available in the iTunes® store and features an easy to use interface that allows users to calculate the estimated weight and cost of long product metallic alloy materials (stainless steels, titanium alloys, etc.) based upon alloy family/density, shape, cross-sectional size, and length.
The app functions in both Imperial and metric settings and is intended for design engineers, OEM's, machine shops or anyone who deals with metals. It is intended to provide an estimate only and is not a guarantee of actual shipped weight or total cost.
MetalMass comes on the heels of the company's latest batch of enhancements to its free online materials technical information database, Alloy TechZone™. Launched in the fall of 2000, Alloy TechZone remains the only database of its kind that delivers free, highly detailed, searchable technical datasheet content on hundreds of specialty alloys further demonstrating Carpenter's continued commitment to provide the engineering community with the tools, resources and expertise it needs.
About Carpenter Technology
Carpenter Technology Corporation (NYSE:CRS), based in Wyomissing, Pa., produces and distributes specialty alloys including superalloys, titanium, and stainless steels in conventional and powder metal forms.
Alloy TechZone, its free technical information database, as well as more information about Carpenter, is available at http://www.cartech.com. The MetalMass App is available for download in the iTunes Store at http://itunes.apple.com/us/app/metalmass/id473674383?mt=8.
Follow "CarpenterTech" on Facebook and Twitter.
###