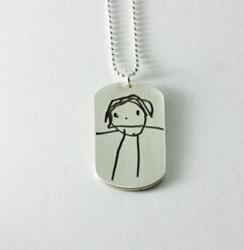 This is the perfect one-of-a-kind, sentimental gift for Mother's Day and Father's Day. Dads love the key chains and cuff links.
Elkhart Lake, WI (PRWEB) May 08, 2013
Popular online gifting service, The Gift Insider, recently shined a spotlight on Metalmorphis Jewelry (http://www.metalmorphisjewelry.com) and metal clay artist Kim Jakum's Child's Artwork Pendants when it featured the Elkhart Lake, Wisconsin designer's handcrafted keepsake jewelry as a "Mother's Day Creative Gift Idea" on its Gift Insider Blog and the Sunday, May 5 Gift Insider segment on NBC Chicago.
Jakum's Child's Artwork Pendants preserve a child's artwork forever. Using fine silver and proprietary techniques, Jakum shrinks a copy of the child's artwork masterpiece to jewelry size and then transfers it onto to a hand-sculpted fine silver pendant, which can be virtually any shape, from oval to dog tag. The resulting pendant can be attractively hung on a variety of chain styles, which Jakum provides as an optional add on.
As described by Lindsey Roberts, founder of The Gift Insider, the pendants are, "a keepsake to keep those fleeting memories close, like putting time in a bottle."
Jakum says her Child's Artwork jewelry, which in addition to pendants, takes the form of bracelets, key chains and cuff links, "is one of my most popular keepsake jewelry designs. It is the perfect one-of-a-kind, sentimental gift for Mother's Day and Father's Day. Dads love the key chains and cuff links. Oh and, grandparents are huge fans too."
Metalmorphis was founded in 2010 but Jakum has been creating and designing jewelry for over 20 years. Certified in Precious Metal Clay, she teaches out of her home studio and has studied with well-known jewelry artists Tim McCreight, Terry Kovalcik, Celie Fago and Wanaree Tanner. Her experience and training has paid off with numerous awards over the last several years and she is recognized for her keepsake and memorial jewelry designs that incorporate the drawings, writings and signatures of lost loved ones.
Jakum's Almandine Talisman Necklace has been seen on the popular television show, "The Vampire Diaries." Her jewelry has been gifted to celebrities including Mila Kunis, Amy Poehler and Mariska Hargitay, and to the stylist of The Client List. She also participated in the Official 46th Annual CMA Awards. Her work has been recognized in "Parent's Magazine," "Metal Clay Today," "Metal Clay Artist" and "Art Jewelry Magazine," as well as by coolmompicks.com and the online marketplace, Uncommon Goods.
Metalmorphis jewelry is available at metalmorphisjewelry.com and metalmorphis.etsy.com. Follow Metalmorphis on Facebook (facebook.com/MetalmorphisByKimJakum) and Twitter (@metalmorphis_).
ABOUT METALMORPHIS JEWELRY
Metalmorphis (http://www.metalmorphisjewelry.com) was founded in 2010 by metal clay artist Kim Jakum of Elkhart Lake, Wisconsin. Jakum creates handcrafted keepsake jewelry that she customizes and personalizes for the wearer. Kim has been designing and creating jewelry for over 20 years and is PMC Certified. Her work has received numerous awards and has been featured in magazines like "Metal Clay Artist" and "Art Jewelry Magazine."