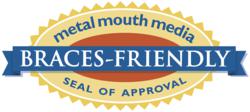 You don't want braces to slow you down. This Seal of Approval is the fast-pass for choosing braces-friendly products.
Mesa, AZ (PRWEB) May 16, 2012
Metal Mouth Media, known for its comfort, care and cooking resources aimed at silver smiles, has stepped up its game for "taking the bite out of braces." Whatever your style of braces – metal, ceramic or removable – the new Braces-Friendly Seal of Approval puts the spotlight on snacks, websites, health products and other choices that help you sparkle day and night.
Pamela Waterman, president of Metal Mouth Media, says, "You don't want braces to slow you down. This Seal of Approval is the fast-pass for deciding what will make you feel good and simplify life when a smile is 'under construction.'" Waterman, a veteran of both teen and adult braces, first wrote the award-winning Braces Cookbook series to help braces-wearers of all ages prepare easy meals for tender teeth. Now her business has created the Braces-Friendly Seal of Approval as a way to quickly identify products that stand out as particularly suited for braces-wearers.
"Whatever type of braces you're wearing, our Braces-Friendly Seal of Approval takes the guess-work out of choosing braces-friendly products," says Waterman. "We're always on the lookout for creative comfort food, targeted health-care items and great sources of information, whether online or in books. Our new seal, a spin-off from the Metal Mouth Media logo, literally puts a "stamp of approval" on items put to every-day use by our advisory board."
To be awarded the seal, products must meet a check-list of braces-friendly factors such as taste, performance, ease-of-use or informative content. The Braces-Friendly Advisory Board, comprising braces-wearers from nine to 50 years old, just gave its thumbs-up to the first three Seal recipients:

The discrete Braces Survival Kit from DentaKit.com - containing everything needed to rock your smile wherever you go. Its zippered case could pass for an e-book, but its contents include a spiral proxa-brush, folding mirror, travel toothbrush/paste and collapsible cup.
Anderson Trail Premium Moist Granola - a tender cherry-cranberry alternative to crunchy, dry granola, developed by founder and CEO Justin Avery Anderson (at the time, 15 years old, in braces, and very hungry). Who knew a granola could still be on your breakfast menu?
Plackers Orthopick Flossers - helpful at home and on the road after a stealth-check on your smile. A narrow flosser arm sneaks between teeth and arch wires and includes a built-in, flexible pick.
Companies with relevant products are encouraged to submit sample items to Metal Mouth Media for Seal consideration.

About Metal Mouth Media™
Metal Mouth Media publishes the award-winning specialty cookbooks, The Braces Cookbook: Recipes You (and Your Orthodontist) Will Love (with easy ideas, recipes and resources for teens and their families) and The Braces Cookbook 2: Comfort Food with a Gourmet Touch (with mostly main-meal recipes and tips targeted to adults but delicious for all ages). President Pamela Waterman collaborates with Chef Amee Hoge (trained at the NYC French Culinary Institute) to continually update the recipes and hints offered in their cookbooks and workshops.
Dedicated to "taking the bite out of braces," Metal Mouth Media contributes recipes, articles and workshops to Orthotown magazine, national parenting magazines and the American Association of Orthodontists. As an imprint of The Discovery Box Publishing, the braces-friendly brand supports the efforts of the American Academy for Oral Systemic Health, WomeninOrthodontics.org and the orthodontic scholarship group Smile for a Lifetime. For more information visit http://www.MetalMouthMedia.net.
Metal Mouth Media
1955 W. Baseline Rd.
Ste. 113-234
Mesa AZ 85202
P 480-897-3380
F 480-897-3379
Blog: http://www.SilverSmileSurvival.wordpress.com
Twitter: @BracesFriendly