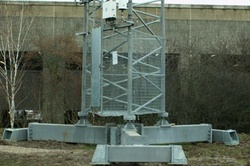 FLI Met Masts are Removable and Reusable.
(PRWeb UK) March 6, 2011
FLI Structures from the Haley Group specialise in the design, manufacture and installation of steel structures and foundations, including towers, masts, screw piles and steel grillages.
They are delighted to announce that they have successfully installed a 60m free standing Met Mast for RWE npower renewables.
FLI were contracted by RWE npower to carry out a turnkey project which included the design, manufacture and installation of a 60 metre Met Mast and the foundations at the client HQ site in Swindon.
An important feature of the contract stipulated that the met mast by FLI]must be relocatable and easily re-installed at a new location elsewhere in the UK. The existing site should also be landscaped and returned to its original state upon removal.
FLI acted as Principle Contractor and under the CDM regulations carried out the works including the geotechincal ground investigations. The ground report indicated soft made ground, so a screw pile foundation was selected, as the most technically and commercially suitable for the project.
The 60M Met Mast was designed to carry extendable boom arms are 40m, 50m and 60m heights. Wind measuring equipment was installation to collected weather data for the duration of the install period.
The Screw Pile Foundations consisted 6 separate helical piles, 6m deep, connected together with a Steel Grillage as an interface between the steel piles the mast structure.
The installation of the piles was carried out 2 days and as no concrete was used, no delays were incurred to the project by curing times. The advantage of using FLI screw piles on a site is that they are quick and easy to install.
There are no excavations needed, therefore there is no spoil to cart away. This is particularly helpful if the ground is contaminated or in this case soft and hence a concrete pad footing is unsuitable. Screw Piles are an all steel – sustainable foundation solution, making them fully recyclable. They can easily be removed and re-used if needed.
Overall, using screw piles creates a far more time and cost effective solution for foundations. The Met Mast could then be erected immediately, speeding up the project and limiting the construction works to less than 1 week.
Tony Parker, Sales Manager at FLI comments "Our success is based on understanding and solving site problems efficiently, and providing safe solutions for our installers. With a strong focus on innovation, we are able to supply foundation solutions to support for a wide range of structures in Telecoms, Railway, Highways and Renewable markets. We take experience from each site and use this knowledge to continue to lead the way in the Screw Pile foundations sector".
FLI's success on for thier products has been recognised by Network Rail and Birse Rail, who have both presented FLI with their product innovation awards.
###