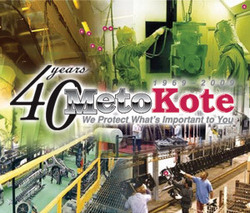 Lima, Ohio (PRWEB) March 17, 2009
MetoKote Corporation, the industry leader in protective coating application services including electrocoating (e-coat), powder coating and liquid paint, celebrates 40 years in the paint and coatings industry.
MetoKote has come a long way from its humble beginnings in 1969 where it began in a small garage in Ohio when Jim Blankemeyer, founder and current board member, and his two brothers built their first powder coating system. MetoKote has had continued success serving customers on a global basis with over 90 coating lines in 32 facilities across North America, South America and Europe and is known as the largest independent custom coater in the world.
Over these 40 years MetoKote has obtained several patents for revolutionary coating systems and support equipment that has helped the company diversify its target markets and set high standards in the industry. MetoKote is unique in the coatings market as it designs, builds and installs the systems used throughout their facilities. MetoKote has also formulated specific strategic business models servicing customer coating needs through operational flexibility. Customers of MetoKote have the option of regional coating centers or in-house service through Paint Shop Management delivering technical expertise to the existing coating system or with the leading edge InSite® total process management model.
MetoKote Corporation, headquartered in Lima, Ohio, serves over 1,000 customers throughout the United States and the world. MetoKote provides environmentally sound and cost-effective coating solutions to a wide variety of industries such as agriculture, appliance, automotive, computer, construction equipment, electrical, furniture, industrial equipment, recreational, and truck and bus.
Meeting the demands of such a diverse group of industries requires an equally diverse range of custom coating services and technologies. MetoKote offers a full range of high technology custom coating services, including electrocoating (e-coat), powder coating, liquid paint and other custom coatings. MetoKote is constantly researching and developing new protective coating applications to meet your needs.
The MetoKote "Continuous Customer Focus" is their commitment to customers. It is the ability to direct a custom coating project from the initial opportunity stage throughout the entire project cycle. Their start-to-finish capability allows complete project management of protective coating applications including: evaluation, design conception, solution recommendation, implementation, quality production and process management. Their dedication to continuous improvement in protective coating applications results in additional customer benefits and opportunities, providing expertise and leadership to meet your needs.
###