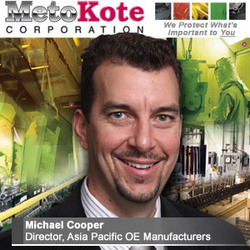 Lima, OH (PRWEB) December 7, 2008
MetoKote Corporation, the industry leader in protective coating applications services including electrocoating (e-coat), powder coating and liquid paint, is pleased to announce the recent addition of Michael Cooper as Director, Asia Pacific OE Manufacturers. In this role, Michael will focus on sales growth across these manufacturers and will work closely with MetoKote facilities serving these partners to ensure positive relationships and service excellence.
Mr. Cooper earned his BS in Mechanical Engineering from Purdue University in West Lafayette, Indiana, and is currently working on his MBA at the University of Michigan.
Mr. Cooper has extensive experience with the Asian Pacific OE Manufacturers. Prior to joining MetoKote, Mr. Cooper worked as the Nissan Senior Account Manager for Magna Decoma International. He has also worked for TKS Industrial Company and Haden Inc., both of which specialize in paint finishing systems and facilities for the automotive and related industries furnishing paint equipment to Honda and Toyota. Michael also lived in Toyota City, Japan, during his tenure with Toyota Motor Corporate Services of NA to complete their intensive training and indoctrination program at Toyota's global engineering headquarters.
MetoKote Corporation, headquartered in Lima, Ohio, is the industry leader in protective coating applications, serving over 1,000 customers throughout the United States and the world. MetoKote provides environmentally sound and cost-effective coating solutions to a wide variety of industries such as: agriculture, appliance, automotive, computer, construction equipment, electrical, furniture, industrial equipment, recreational, and truck and bus.
Meeting the demands of such a diverse group of industries requires an equally diverse range of custom coating services and technologies. MetoKote offers a full range of high technology custom coating services, including electrocoating (e-coat), powder coating, liquid paint and other custom coatings. MetoKote is constantly researching and developing new protective coating applications to meet your needs.
The MetoKote "Continuous Customer Focus" is their commitment to customers. It is the ability to direct a custom coating project from the initial opportunity stage throughout the entire project cycle. Their start-to-finish capability allows complete project management of protective coating applications including: evaluation, design conception, solution recommendation, implementation, quality production and process management. Their dedication to continuous improvement in protective coating applications results in additional customer benefits and opportunities, providing expertise and leadership to meet your needs.
###