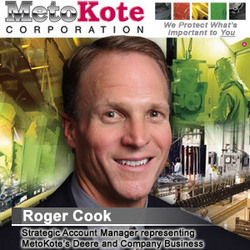 Lima, OH (PRWEB) September 4, 2008
MetoKote Corporation, Inc., the industry leader in metal finishing processes, including electrocoating (e-coat), powder coating and liquid paint, is pleased to announce the recent addition of Roger Cook as Strategic Account Manager representing MetoKote's Deere and Company Business. Roger will be based in Lansing, Michigan.
Mr. Cook earned his BSME in Mechanical Engineering from Michigan State University in East Lansing, Michigan.
Prior to joining MetoKote, Mr. Cook spent 9 years in an Account Manager role with Lord Corporation located in Lansing, Michigan. One of his key responsibilities with Lord was management of the company's Deere business with regards to vibration isolation products. Throughout his career, he has worked with Caterpillar as an Analysis Engineer and at General Motors as a Product Engineer.
MetoKote Corporation, headquartered in Lima, Ohio, serves over 1,000 customers in 40 facilities throughout the United States and the world. MetoKote provides environmentally sound and cost-effective coating solutions to a wide variety of industries such as: agriculture, appliance, automotive, computer, construction equipment, electrical, furniture, industrial equipment, recreational, and truck and bus.
Meeting the demands of such a diverse group of industries requires an equally diverse range of custom coating services and technologies. MetoKote offers a full range of high technology custom coating services, including electrocoating (e-coat), powder coating, liquid paint and other custom coatings. MetoKote is constantly researching and developing new protective coating applications to meet your needs.
The MetoKote "Continuous Customer Focus" is their commitment to customers. It is the ability to direct a custom coating project from the initial opportunity stage throughout the entire project cycle. Their start-to-finish capability allows complete project management of protective coating applications including: evaluation, design conception, solution recommendation, implementation, quality production and process management. Their dedication to continuous improvement in protective coating applications results in additional customer benefits and opportunities, providing expertise and leadership to meet your needs.
# # #