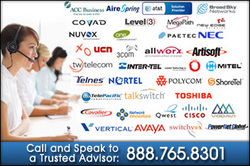 Metro Ethernet Is The Future Of Internet Connectivity Which Is Providing Customers More Bandwidth For Their Buck!
Los Angeles, CA (PRWEB) June 14, 2010
In the ever changing world of information technology, any and every business needs an Internet service provider that can keep up with the super swift pace and its exactly for this reason that SolveForce and their team is so motivated to announce the expanding coverage of Nationwide Metro Ethernet and Internet T1 Line coverage throughout all of the U. S. A. and international connectivity.
SolveForce.com, LLC deliverers Metro Ethernet speeds ranging from 3Mbps, 4Mbps, 5Mbps Ethernet, 10Mbps, 20Mbps, 30Mbps, 40Mbps Ethernet, 50Mbps, 100Mb Fast Ethernet, 200Mbps, 300Mbps, 400Mbps, 500Mbps and 1000Mb Gigabit Ethernet and up.
SolveForce.com, LLC aims to provide each and every client with an online experience that's worthy of their limited time as well as giving them much needed info with the touch of a button. To achieve their goals, the SolveForce team has invested many years extensively researching numerous consortium's and telecommunications service providers to fully comprehend pricing structures as well as business models. Based on all info and research gathered, SolveForce.com, LLC invested in complex architecture and programming to allow for only the best aggregate and consolidate services.
For comprehensive info on nationwide and international footprint for MetroE, FastE, GigE, Ethernet over Copper (EoC), T1 Line, PRI's, T3 Line, VoIP, MPLS, Point to Point, Collocation, Leased Fiber, Dark Fiber, VoIP, Wholesale Bandwidth and VPLS check out http://www.solveforce.com
# # #