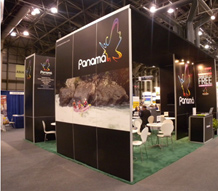 Far too often companies worry about the bottom line for this quarter or year, we are dedicated to building a company in which our sons and daughters can one day take over and run
Pinebrook NJ (PRWEB) February 09, 2012
Metro Exhibits, a dynamic trade show exhibit manufacturer, is pleased to announce that Ray Zamloot has been named Senior Vice President of Sales to help support strong sales growth and an expanding client base. With strong experience in sales and a CPA he will help to oversee both the business development and accounting departments.
Ray Zamloot has over 14 years of sales experience and progressive responsibility in management. Prior to joining Metro Exhibits he was Manager of Sales Operation at Reckitt Benckiser where his responsibilities included the strategic management and support of 140 healthcare sales team members. Key achievements included surpassing sales with strong leadership, new customer targeting implementations, and resource management. In addition to Reckitt, Ray has also worked at Novartis Pharmaceuticals of East Hanover.
"I am excited to have added Ray with his many years of experience and keen business acumen to our staff. He is a valuable asset to any team and we are lucky to have him. It also stays on par with my philosophy of business, which is taking a multi-generational approach," says Phil Zamloot, President of Metro Exhibits. "Far too often companies worry about the bottom line for this quarter or year, we are dedicated to building a company in which our sons and daughters can one day take over and run. The best way to accomplish this is by focusing on customer service and client relations and the rest will follow. With Ray coming aboard this a big piece of the puzzle that will help us accomplish our goals."
Ray has a Bachelor of Science in Accounting from Rugters University, a CPA certificate, and is currently pursuing his MBA from Seton Hall University. He lives in Cadwell NJ with his wife and children.
About Metro Exhibits: Metro Exhibits is a leading manufacturer of trade show solutions nationwide. With offices in NY and Las Vegas, Metro can provide any need for trade show exhibits NY or in Las Vegas. The company specializes in the design, creation, and service of a wide variety of trade show products including custom, modular, and portable exhibit solutions.
###