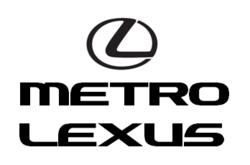 I couldn't be more excited to join the great team here at Metro Lexus. We will carry on the rich customer-focused tradition of Metro Lexus, while looking for new ways to be innovative and create the 'Once in a Lifetime Experience…Every Time.'
Cleveland, OH (PRWEB) June 08, 2011
Metro Lexus of Cleveland, one of the oldest Lexus dealerships, is proud to announce John Spearry as their new general manager.
"I couldn't be more excited to join the great team here at Metro Lexus," Spearry said. "We will carry on the rich customer-focused tradition of Metro Lexus, while looking for new ways to be innovative and create the 'Once in a Lifetime Experience…Every Time.'"
Metro Lexus has received the Elite of Lexus award for 13 years. The Elite of Lexus award is given to Lexus dealers who excel at sales, service and overall owner support. Dealers are chosen based on surveys in which the customer rates the dealership "extremely exceptional" in the areas of owner satisfaction, sales and service. In addition, the dealership must exceed rigorous Lexus operational and certification standards to receive the Elite of Lexus award.
This Cleveland car dealership also provides a number of customer benefits, including a $1.3 million, 8,400 square-foot auto spa that pampers both customer and car. The auto spa is large enough that customers will most likely never have to wait for more than 15-20 minutes before the vehicle enters the wash. In addition, the spa is open six days a week, Monday through Saturday. Customers may choose from silver, gold, or platinum cleaning packages.
Metro Lexus is also actively involved in the community, participating in various charitable causes, such as the Littlest Heroes. This organization helps children with cancer and their families. In addition, Metro Lexus also supports the efforts of the Cleveland Clinic Children's Hospital.
Metro Lexus writes helpful tips on Lexus vehicles and entertainment ideas for the Cleveland area on its blog.
ABOUT METRO LEXUS:
Metro Lexus of Cleveland is the largest Lexus dealership in Ohio. Currently boasting the only auto spa in the USA, Metro Lexus brings award-winning customer service to all of its customers. Year after year, Metro Lexus of Cleveland is committed to providing a Lexus experience that keeps customers coming back.
###