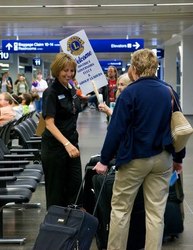 This was a company-wide effort
Minneapolis, Minn. (Vocus) July 31, 2009
Nearly 150 full- and part-time staff assisted in serving the national and international delegations of the Lions Clubs. From June 29 to July 10, metroConnections provided transportation, events and tour registration services as part of the convention activities.
"We figured that we needed five times the number of staff for our transportation services alone," said Sam Thompson, Founder and CEO of metroConnections. "That's about 60 people per day - to guide the convention attendees to their shuttles, 'spot' buses, to meet and greet them at the airport, get them to their hotels, and arrange tours and accessible transportation." As for metroConnections' Event team, they tripled the number of people they needed for a typical conference. The team managed 16 VIP events during the six days prior to the convention including a German Oktoberfest on Nicollet Island, and provided production, entertainment and décor services for a variety of events including a formal banquet later in the convention.
The Lions Clubs estimated attendance to be around 12,000 attendees. The members of the Lions Clubs stayed at 28 Minneapolis and Bloomington hotels with metroConnections providing shuttle service to all 28 hotels through 10 shuttle routes. With the assistance of 12 transportation carriers, metroConnections utilized more than 400 vehicles throughout the convention.
In addition to the transportation and event services, metroConnections provided group tours and tour registration for the Lions Clubs. More than 40 tours over 10 days were conducted by the guides of metroConnections, as the guests enjoyed the sights and sounds of the Twin Cities metro area including fireworks over the Mississippi River on the Fourth of July and a Minnesota Twins game.
"This was a company-wide effort," comments Thompson. "As an example, registration specialists from our Conference Services division worked at the tour registration desk during the convention. They were instrumental in registering conference attendees at the last minute for tours about to depart."
According to Meet Minneapolis, this marks the second annual convention Lions Clubs International has held in Minneapolis; the first was held in 1993. The Lions' 92nd international convention contributed $17 million to the local economy.
Media Contact:
Amanda DePhillips
Marketing & Public Relations Manager
Phone: 952.767.2907
###