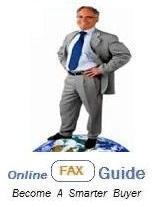 MetroFax's new fax plans and changes makes this online fax provider much more competitive and much more attractive to its customers.
(PRWEB) May 11, 2011
Recently, MetroFax introduced several new online fax service plans and pricing to further enhance their already popular Internet fax services. Onlinefaxguide.com, a major online fax services comparison site, has reviewed the new fax plans and updated their listings to reflect these new changes and offers from MetroFax.
MetroFax, located just outside of Seattle in Bellevue, is a well established fax provider which was founded in 1997. It has always been a popular choice for many individuals and companies who needed an affordable web based email faxing service. Now, with the introduction of two new service plans (Essential and Professional) MetroFax has become a much more comprehensive provider which should fully satisfy all their customers' needs.
"What really makes MetroFax more competitive now is the introduction of the yearly subscription rate, where customers can get 12 months of service but actually only pay for 10 months," states Titus Hoskins, a former teacher who now runs Onlinefaxguide. "Plus, MetroFax has introduced a 30 Day Free Trial so anyone can try out their service without any obligations or contracts."
If one chooses a local fax number with the entry level Essential Plan, they will get 500 pages (incoming outgoing) for only $6.63 per month with the annual rate - this is very competitive when compared to any other fax providers and plans. So too if a customer chooses a local number with the Professional Plan, they will get 2500 pages (incoming outgoing) for $29.96 per month with the annual rate.
These new MetroFax services will be completely mobile and integrated with Android and iPhone. Free apps are provided so that the customer can access their fax account through their mobile phones. Another notable feature - potential customers can "port" their current fax number into their new MetroFax account so that there is no interruption in their business dealings or operations.
In addition, MetroFax has re-designed its site to reflect these new changes and to make the site easier for potential customers to evaluate their fax services. Keep in mind, MetroFax offers local or toll-free fax numbers in the U.S. and Puerto Rico. Plus, it also offers services in Canada.
For more information on MetroFax and how it compares with the other major online fax providers, visit our handy Internet Fax Comparison Site. To help you further choose a fax service, you can even download our comprehensive fax guide here: http://www.internetfaxguide.org
About OnlineFaxGuide.com
Created in 2006, OnlineFaxGuide compares all the major Internet Fax Services and offers handy informative articles, videos and reviews to help the potential customer choose the right fax provider and plan to match their faxing needs. It also presents the latest fax services deals, discounts and free trials from the different fax service providers. (MetroFax is a registered trademark of MetroFax, Inc.)
# # #