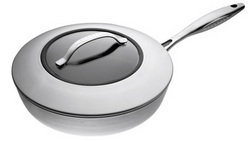 With CTX, Scanpan continues to be a leader in non-stick cookware technology.
Marietta, GA (PRWEB) February 18, 2010
Scanpan is one of the world's leading manufacturers of cookware, always on the cutting edge of non-stick technology. It produced one of the first, truly dishwasher-safe non-stick lines with Scanpan Classic and Professional. Its new line Scanpan CTX takes the technology a step further.
Scanpan CTX cookware is 100% PFOA-free plus it is the first line of Scanpan cookware that is compatible with induction cook-tops, as well as with all other cooking surfaces. Its patented, non-stick surface is very durable. Consumers can use metal utensils on it and put it in the dishwasher! Scanpan CTX non-stick cookware is constructed with multiple layers of stainless steel and aluminum for quick and even heating. It has a lifetime warranty.
Not only does it perform well, it also looks great. Its satin finish helps keep a clean appearance, preventing smudges to appear on the exterior. Some pieces feature a glass lid with a metal rim so you can see your sauces as well as protect the glass from breakage or damage.
MetroKitchen is pleased to offer the entire line of Scanpan CTX, including cookware sets, woks, fry pans, saute pans, dutch ovens, chef's pans, sauce pans and casseroles.
MetroKitchen offers top brands of high-quality kitchen essentials, free shipping on orders over $49 and all orders are sent from the MetroKitchen warehouse ship within 24 business hours or sooner. Metrokitchen.com has been in business since 1998 and is the oldest kitchen-products web site in the U.S. For more information, please visit http://www.metrokitchen.com/
###