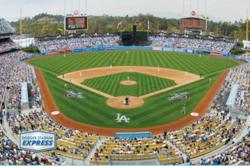 "Dodgers fans can avoid parking costs and traffic and have a great time in the process"
Los Angeles, CA (PRWEB) April 21, 2011
Los Angeles Dodgers fans now have a great new way to get to the ballpark by taking Metrolink Dodger Trains. Discounted $10 round-trip tickets are available exclusively though Wild at Work at http://www.WildatWork.com/Metrolink.
Fans throughout Southern California can take Metrolink to Union Station where they can then hop on the Dodger Stadium Express bus to Dodger Stadium. The Dodger Stadium Express buses are free to all fans with Dodgers tickets.
This new program is sponsored by Metrolink, Metro and Wild at Work with support from the regional Air Quality Management District. Metrolink, Southern California's premier rail system, operates more than 750 trains per week. The system has been designed to provide commuters and leisure travelers with an easy, inexpensive and convenient alternative to driving.
Wild at Work provides employees and businesses throughout the region with discounts and special offers on travel, entertainment, transportation and shopping as part of their employee benefits programs.
"Instead of sitting in bumper to bumper traffic and paying $15 - $20 for parking, Dodgers fans can now take Metrolink trains with other fans for only $10 round-trip and have a great time in the process," said Wild at Work Chief Instigator, Jeff Flowers. "Wild at Work is proud to be a Metrolink partner and to provide this fantastic new offer to Dodgers fans."
Even if you are not a member of Wild at Work, you can still register with the website to receive the Metrolink discount tickets by signing up for the service under the company name: Metrolink Riders at http://www.wildatwork.com/User_Registration.cfm
Wild at Work is free for companies and their employees and offers discounts on shopping, dining, travel and entertainment.
# # #