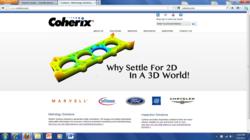 Coherix launches new website to reflect the company's growth, business model and product portfolio.
Ann Arbor, MI (PRWEB) July 10, 2012
Coherix, a leader in advanced Robust3D Measurement and Inspection solutions for manufacturing, has launched its new website at http://www.coherix.com. The website was created with the help of 3Sixty Interactive in Fenton, MI.
"Coherix has done a lot of maturing and growing over the past several years," said Rick VandenBoom, Coherix Director of Marketing, "and we need our web presence to reflect the company's growth, business model and product portfolio. 3Sixty is a great partner for us, because they understand how a company like ours should leverage digital marketing today and the new website is the cornerstone of our digital strategy."
"Creating a strategy to update Coherix's web and social media presence was a challenge due to their diverse product portfolio and extremely technical content," said Dale Keipert, President of 3Sixty Interactive. "However, the management was so open to ideas and how a new website could help them that things really came together quickly. We are looking forward to a successful long term partnership with Coherix."
In addition to the new website, Coherix has launched several social media plugins that can be accessed from their website. Coherix plans to use these social media outlets to keep customers and investors more informed.
About Coherix
Coherix is a privately held, global supplier of high-speed, high-definition 3-D visualization and inspection solutions designed to improve the management of manufacturing processes. Headquartered in Ann Arbor, the company has technical centers in Europe and the Asia Pacific region. Coherix products are being utilized around the world at companies such as Intel, Amkor, BorgWarner, Ford, Honda, MAG, Chrysler, General Motors, Micron, Infineon, John Deere, Volvo Technology Transfer and TRW among others. More information is available at http://www.coherix.com.
About 3Sixty Interactive
3Sixty Interactive is a professional agency with over ten years of experience in the digital world. They are based in Fenton, Michigan with clients throughout the Midwest and across the globe and offer a variety of digital marketing solutions that include search engine optimization, digital advertising, email marketing, social media, customized strategy reports, analytics and maintenance of your marketing plan.
Coherix Company Contact:
Rick VandenBoom
Phone: +1.734.922.4099
Email: rickv(at)coherix(dot)com
3Sixty Interactive Company Contact:
Dale Keipert
Phone: +1 810.750.8658 ext:101
Email: dalek(at)3sixtyinteractive(dot)com