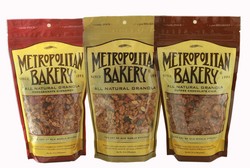 Philadelphia, PA (PRWEB) July 14, 2009
Metropolitan Bakery, the Philadelphia artisan bakery using old-world techniques and a long-slow-cool rise, has introduced two new flavors of their whole grain granola--Coffee Chocolate Chip and Pomegranate Cinnamon. Metropolitan's Coffee Chocolate Chip Granola is made with dark chocolate, coffee trablit, and crunchy almonds, while the nut-free Pomegranate Cinnamon Granola features pomegranate molasses, brown cinnamon, cardamom and the antioxidant power of goji berries, blueberries and cranberries. The new flavors were created by Metropolitan Bakery head baker and co-owner James Barrett, who first created Metropolitan's much-loved original granola in 1993. All whole grain granola flavors are available at our online store or by calling 1.877.41.BREAD for participating retailers.
Each batch of Metropolitan granola is mixed and folded by hand, and baked in a thin layer on low heat to ensure crispness. Metropolitan's granola is an excellent source of complex carbohydrates, protein and healthy fats (DHA), with no cholesterol or trans fat. It's great alone or with milk, yogurt or ice cream. The two-ounce packages also make great wedding and party favors.
Metropolitan's Coffee Chocolate Chip Granola and Pomegranate Cinnamon Granola are available nationwide through our web site, in specialty stores, and in all Philadelphia-area Metropolitan Bakery locations.
The Metropolitan Bakery Coffee Chocolate Chip Granola is available in two-ounce ($2.25 each) and 12-ounce ($7.75) sizes. The Metropolitan Bakery Pomegranate Cinnamon is available in two-ounce ($2.25 each) and 12-ounce ($7.95) sizes. Wholesale and bulk rates are available to retailers.
To order, call 1.877.41.BREAD or visit http://www.metropolitanbakery.com. We ship anywhere in the contiguous United States. For holiday or gift deliveries, we include a handwritten note; just tell us what you want it to say.
About Metropolitan Bakery
With only a table, a shoebox for a register, and a single rack of freshly baked bread, the likes of which Philadelphians had never tasted before, Wendy Smith Born and James Barrett opened Metropolitan Bakery in 1993. Known for their intense, earthy flavors, crackling crusts, and complex texture, our breads are baked in over 30 varieties at our 10,000-foot baking facility and then delivered to our five neighborhood shops and to more than 90 of the Philadelphia area's best restaurants and gourmet markets. And now, our products are available nationwide… Call 1.877.41.BREAD or visit our online store at http://www.metropolitanbakery.com.
# # #