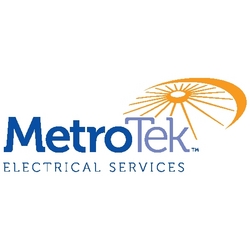 This is a great example of how our communities, when they embrace alternative forms of energy, will not only offset rising cost of electricity, create energy independence, but also educate residents on clean, affordable, and efficient solar power.
Walnutport, PA (PRWEB) October 20, 2010
Northampton Area School District ("NASD") today conducts the ground breaking ceremony for the first phase of construction on a new 2.2 megawatt solar energy system at Lehigh and Moore Elementary Schools. Metrotek Electrical Services, one of Pennsylvania's leading electrical construction and renewable energy firms, headquartered in Kunkletown, Pennsylvania, spearheaded the program.
The ground-mounted solar arrays will convert sunlight into electricity and supply 100% of the power requirements for both elementary schools. A subsequent phase will include a wind turbine as an additional power source.
"MetroTek has completed several solar energy projects in the tri-state area and has long recognized the need for renewables to control costs and remain competitive," stated Reiner Jaeckle, Chief Operations Officer of MetroTek Electrical Services. "We are proud that the NASD chose MetroTek to implement a sustainable energy strategy and applaud the district for leading the way in Pennsylvania." Mr. Jaeckle continued, "This project not only provides the district with a substantial reduction in energy costs, but it also eliminates the emissions of greenhouse gases, providing long-term environmental benefits for the community, as well as educational evolvement for the schools." This project will be integrated into the districts' learning curriculum, affording the children a chance to create new knowledge and new ways of thinking for a sustainable future. Additionally, the project will utilize local labor, materials and material suppliers.
"NASD is thrilled to be the first in Pennsylvania to produce 100 % on site power, using solar as well as wind energy sources that will help to build a sustainable future for our schools. We are pleased to be working with MetroTek to spearhead this project," commented Robert J. Yanders, Director of Operations for NASD.
The solar energy system at both elementary schools will produce 2,487,003 kilowatt hours of electricity annually from approximately 11,728 high efficiency photovoltaic solar modules. By producing electricity from a clean, renewable energy source, NASD will offset 1,254 tons of carbon dioxide a year, as well as offsetting 994 pounds of Nitrogen Oxide and 2,611,353 pounds of Methane a year, all of which represent the Earth's most prevalent and harmful greenhouse gases. When completed, the school district's solar energy system will be one of the largest net-zero solar energy systems at an educational facility in Pennsylvania.
The project was made possible by an $831,250 grant from the Commonwealth of Pennsylvania's Department of Environmental Protection and the Pennsylvania Energy Development Authority ("PEDA"), and was funded through the American Recovery and Reinvestment Act. Secretary Hanger of the Pennsylvania Department of Environmental Protection stated, "This is a great example of how our communities, when they embrace alternative forms of energy, will not only offset rising cost of electricity, create energy independence, but also educate residents on clean, affordable, and efficient solar power." Hanger added, "Northampton School District has taken a great step toward the future by investing in this opportunity that will benefit their educators, students, and the environment for years to come."
As part of the project, a web-based solar educational portal will be furnished to educate the students of the entire school district on the operational and economic benefits of solar energy. The program will include grade-appropriate lessons for all students, K -12, with an additional electrical engineering portion for those students interested. "We are thrilled to be part of such a progressive initiative. It is an electrifying time in the NASD, as the community benefits financially and educationally," stated Joseph Kovalchik, Superintendent of Schools for Northampton. Also commenting on our communities' progress, Dave Gogel, NASD School Board President, stated, "This is a milestone for our district. With the efforts of MetroTek, external investors, the PEDA grant, and our local representatives, we are thrilled to offer our taxpayers additional opportunities to save on energy costs and provide our students with a more enriched curriculum in the future."
Also commenting on the project, State Representative Julie Harhart stated, "MetroTek is participating in a great project for Lehigh & Moore Elementary Schools as well as the community by building and installing this solar energy system. I thank them for their innovation and for their devotion to healthier and more efficient electrical power," said Harhart. "It is my hope that Lehigh & Moore are among the first of many schools to adopt a solar energy system, and that it will teach our children the importance of investing in sustainable and renewable energy."
Please Note:
Northampton Area School District and MetroTek will be holding a ground breaking ceremony at 10:30 on October 20th, 2010 at Lehigh Elementary School
800 Blue Mountain Drive, Walnutport, PA, with project partners and state and local representatives. Guest Speakers to include: Secretary of the Pennsylvania Department of Environmental Protection, John Hanger, Pennsylvania State Senator Patrick Browne, State Representative Julie Harhart as well as other local school board officials. Also in attendance will be United States Congressman Charlie Dent. All media and local officials interested in attending should contact MetroTek Electrical Services at 610-381-4040 Extension 106 to coordinate with Justina Grabowski.
About Northampton Area School District
Northampton Area School District is located in the heart of the Lehigh Valley. Covering 97.3 square miles in Northampton County, the school district is comprised of the boroughs of Bath, Chapman and Northampton; and the townships of Allen, East Allen, Lehigh and Moore. The population of the district is more than 38,500. The school district is located 10 miles from the cities of Allentown and Bethlehem, 70 miles from Philadelphia and 90 miles from New York City. Northampton Area School District is a community rooted deep in tradition. The Borough of Northampton was the location of the former cement giant, The Atlas Portland Cement Company. The school district mascot, the Konkrete Kid, is attributed to the once-thriving cement industry in the area. The district currently serves approximately 5,800 students through four elementary schools, middle and a high school."
Contact NASD: 1-610-262-7811
Learn more at http://www.nasdschools.org
About MetroTek Electrical Services Co.
MetroTek Electrical Services provides exceptional electrical solutions to the complex problems and mission critical needs of the company's commercial, industrial, and utility clients. MetroTek serves customers in Pennsylvania, New Jersey, and New York, providing electrical construction, high voltage, automation, instrumentation, telecommunications, and renewable energy services. Along with our electrical construction and maintenance divisions, MetroTek excels at delivering on-demand electrical testing and diagnostics as part of the company's unparalleled emergency response and repair service. Additionally, MetroTek's electrical engineering expertise and commitment to green energy drives the company to deliver superior sustainable energy solutions through the combined use of wind, solar, smart grid, and energy efficiency technologies. Learn more at http://www.metroelectrical.com
Contact MetroTek: 1-610-381-4040, ext. 106
justina(at)metroelectrical(dot)com
Find us on Facebook or twitter.com/metroelectrical
###