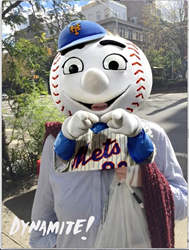 October trends are unpredictable" said Larry Lieberman a founder of the Dynamite app. "Everyone expects Freddy Kruger to be popular this time of year – and he is – but the New York Mets have more fans than anyone this week – way more than the Chicago Cubs
New York, NY (PRWEB) October 20, 2015
Move over pumpkin spice lattes, there is a new October mania in town and it lives in Queens, NY. iPhone video app Dynamite reports today that New York Mets mascot "Mr. Met" has surged in popularity to become the top most used mask in the messaging app – knocking Donald Trump out of the first place (a slot he's held since the first Republican debate in September).
"October trends are unpredictable" said Larry Lieberman co-founder of the Dynamite app. "Everyone expects Freddy Kruger to be popular this time of year – and he is – but the New York Mets have more fans than anyone this week – way more than the Chicago Cubs."
Several thousand Dynamite app video messages with Mr. Met were recorded and sent this weekend vs. only a few hundred for the poor ol' Clark, MLB's Chicago Cub's Bear mascot (ranked 22 in popularity among Dynamite's 150 masks). Other popular masks in the Dynamite app include Kim Kardashian, John Cena, Jesus, and Sloths.
LINKS TO VIDEOS MADE BY FANS:

About Dynamite Labs, Inc.
Dynamite is a free iPhone app, download in the App Store http://apple.co/1W34ky0
Dynamite Labs is on an important mission — to make it easy for everyone to share their personal, provocative, and funny stories on mobile video. The company is backed by $1.6 M in seed funding led by Observatory Capital. The founders are four experienced tech entrepreneurs responsible for apps already used by more than 100 million people.