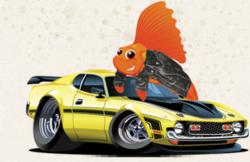 It's pretty ironic that this is the type of behavior coming from a guy who consciously changed his last name to 'World Peace.'
Los Angeles, CA (PRWEB) April 23, 2012
RoadFish.com men's lifestyle and finance magazine voiced its disapproval of the violent elbow thrown by Lakers forward Metta World Peace after he completed a successful slam dunk in yesterday's game against the Oklahoma City Thunder. World Peace, who has had a fair share of fines and suspensions from the NBA in the past for unruly behavior, had just come down from a dunk and after pounding his chest with his right arm, threw a hard elbow into Oklahoma City forward James Harden's left ear. World Peace was ejected from the game. Harden suffered a concussion and also missed the rest of the game.
In Mark Medina's LA Times article, it states that after the blow, World Peace used body language to imply to referee Gary Zielisnki that the hit was an accident, however he was still charged with a flagrant type 2 foul and an immediate ejection from the game. The article suggested that a suspension is probable as well. Reportedly, World Peace gave the following explanation after the game: "During that play, I just dunked on Durant and Ibaka. I got real emotional, real excited. It's unfortunate that James had to get hit with an unintentional elbow. I hope he's OK. The Thunder, they're playing for a championship this year. I really hope he's OK and I apologize to the Thunder and to James Harden. It was such a great game. It was unfortunate so much emotion was going on at that time." Apparently World Peace was interrupted during a question and answer period by a Lakers official and advised not to answer any further questions.
This is not the first time that Metta World Peace has shown physical aggression and rough behavior. Hayley Riggs reported for News OK of several of his previous transgressions, which go back 11 years. On June 13, 2011, World Peace (who was still named "Ron Artest" at the time) broke two of Michael Jordan's ribs during a pickup game, despite the fact that they both played for the Bulls. Reportedly, World Peace was quoted as telling the Chicago Daily Herald that he "read it in the paper and was like, "Man, Mike's ribs got broke. How'd his ribs get broke?" He claimed he was not sure how it had happened. World Peace went on to earn eight suspensions in his 2002-2003 season. He destroyed a TV camera in Madison Square Garden, had a confrontation with Miami Heat coach Pat Riley, and demolished a framed picture of himself at Conseco Fieldhouse.
RoadFish.com's Senior staff writer is quoted as saying, "It's pretty ironic that this is the type of behavior coming from a guy who consciously changed his last name to 'World Peace.' Not only that, but it's just poor sportsmanship, plain and simple. I'm a big sports fan, and I'm a big fan of treating other members of the league with respect. That was just a low blow and in my opinion, completely unacceptable."
Metta World Peace, who won the NBA Defensive Player of the Year Award in 2004, legally changed his name from Ron Artest in September 2011. World Peace is well-known for his role in the 2004 Pacers-Pistons brawl for being at the center of the altercation and punching several Pistons fans. He was suspended for the rest of the regular season for his part in the brawl, and he missed 86 games total (including 13 playoff games) earning him the longest suspension for an on-court incident in NBA history. After fines and games missed, World Peace lost about $7 million due to the incident.
RoadFish.com stated that it does not appear that World Peace's elbow throwing looked accidental. RoadFish.com's Senior staff writer is quoted as saying, "An accident? I don't think so. His track record begs to differ. I've watched the video about a dozen times, in slow-mo and close up. The pound on the chest, yes, that was an authentic celebratory display. The elbow? Tell me what he was planning on doing with that if it wasn't to blast Harden in the head?"
The above-mentioned LA Times article stated that World Peace Tweeted after the game, "I just watched the replay again. Oooo.. My celebration of the dunk really was too much. Didn't even see James.. Omg; Looks bad." He also Tweeted, "Hope James Hardin is ok... I remember when I hit by Marc Gasol the same way.. I was spitting up blood and a headache during the game."
About RoadFish
RoadFish.com is an online men's lifestyle and finance magazine targeted toward men in their 30's and 40's that have already attained a moderate level of success in life, and are striving toward more. It goes over current events of interest to this group, such things as exciting adventures, making money, consumer interests, hot chicks, and mortgage rates as well as ways to make more and save more money. It is a publication owned by Purpose Inc.
###