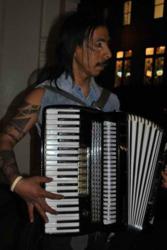 San Francisco, CA (Vocus/PRWEB) March 11, 2011
Viva la margarita! Come dance, eat, drink, and enjoy live music at Casa Sanchez this Saturday, March 12 from 6:30 to 9:30 pm. The event features patio dining, $3.00 margaritas, free award winning salsa bar, and $1.50 mini burritos. The San Francisco Mexican restaurant is located at 2778 24th Street at York in the historic Mission District.
Live musical entertainment includes mariachis, Eastern European music. Confirmed musicians include Jonah Larrama and friends and The Black Hats (formerly "Ilya Kreymer & Friends"). The Black Hats are an eclectic Eastern European ensemble that will play folk tunes from Russia, the Balkans, and that long forgotten Jewish wedding that you've always wanted to attend.
The story of Casa Sanchez goes back over 100 years to when Roberto and Isabel Sanchez came to the U.S. in the early 1900s from Mexico. They opened the very first mechanized tortilla factory in Northern California and sold tortillas by the pound, wrapped in paper and string. Through hard work and the help of their three kids Juliana, Robert Jr. and Lupe, the business grew to a wholesale Mexicatessen. Tortillas were delivered by the hundreds in Model A cars, then International diesel station wagons. In the 1960s they opened Club Sanchez and helped pioneer San Francisco's Fillmore District jazz scenes.
Then Robert Sanchez Jr. fell in love and married his most intelligent and hard worker, Martha. Soon their five kids grew up, and into the business they went. Jimmy the baby was the inspiration for the Casa Sanchez Logo "Jimmy the Cornman." Bob expanded Casa Sanchez into a top ten highest grossing business in San Francisco.
With an innovative new line, Casa Sanchez sold the very first packaged fresh salsa in the country. Casa Sanchez reached global recognition via a promotion: get a tattoo of "Jimmy the Cornman" and receive free lunch for life from the Mission district restaurant. The story ran over 100 times internationally in print and on television; it was featured on dozens of morning zoo radio shows, became a trivia question on Jeopardy and was voted by Forbes magazine as one of the top ten best marketing ideas of the year.
For more information about Casa Sanchez's other products and services—like catering!—call them at (415) 637-6300, view them on the web at http://www.casasanchez.com, or visit them at 2778 24th Street @ York in San Francisco.
About Casa Sanchez Restaurant
Casa Sanchez Restaurant is a Mexican restaurant in the Mission District of San Francisco that specializes in serving quality Mexican food and catering in San Francisco and the Bay Area.
###