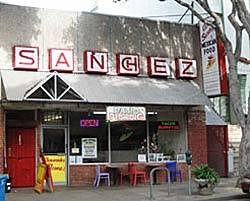 Unwind like crazee or relax with the kids. Watch others with the musica pounding inside of them in an atmosphere that literally puts you in a warm world of tropical color
San Francisco, CA (Vocus/PRWEB) June 16, 2011
Casa Sanchez, the Mission District institution that serves up authentic Mexican food in San Francisco, is celebrating Father's Day with fun for the whole family. For the past three years, the eight-time award-winning patio restaurant has been hosting live world class salsa music. This Sunday, June 19, at 1pm, Casa Sanchez features a Father's Day festival with music from the ever-popular Adelante. The San Francisco natives deliver a powerful orchestrated blend of romantic and hard-dancing salsa.
"Unwind like crazee or relax with the kids. Watch others with the musica pounding inside of them in an atmosphere that literally puts you in a warm world of tropical color," says owner Marta Sanchez.
Guests are invited to enjoy the all-day breakfast or traditional Mexican food with most meals under $10.00. Margaritas are $3.00 before 2pm; bean pupusas are $1.00 each with no limit. There is no cover charge, but tipping the band is encouraged.
The eight-time "Best of San Francisco" award-winning restaurant is open daily and features a free salsa bar with the famous Casa Sanchez salsa. The salsa was the first that was fresh packaged in the country and is sold throughout the western states.
Casa Sanchez is home of the tattoo for taco story:
Jimmy, the youngest of the 3rd generation Sanchez family, was the inspiration for the Casa Sanchez logo "Jimmy the Cornman." It reached global recognition via a promotion where people who got a tattoo of "Jimmy the Cornman" would receive free lunch for life from the Mission District restaurant. The story ran over 100 times internationally in print, television and radio. It became a trivia question on Jeopardy and was voted by Forbes Magazine as one of the top ten best marketing ideas of the year.
The story of Casa Sanchez began in 1923 when Roberto and Isabel Sanchez arrived from Nayarit, Mexico and opened the first tortilla factory in Northern California. At the Mexicantessen, the Sanchez's kids, Juliana, Lupe and Robert, sold tortillas wrapped in paper and string by the pound, which were delivered by the hundreds in Model A cars, then later in International diesel station wagons.
In the 1960s, they opened Club Sanchez and helped pioneer San Francisco's Fillmore District jazz scene. Robert Sanchez, Jr. soon fell in love with and married his most intelligent and hardest worker, Martha. They had five kids, who are all involved in the business.
For more information about Casa Sanchez's Father's Day fiesta or any of Casa Sanchez Restaurant's other products and services—like catering!—call them at (415) 282-2402, view them on the web at http://www.casasanchez.com, or visit their restaurant located at 2778 24th Street @ York in San Francisco.
About Casa Sanchez Restaurant
Casa Sanchez Restaurant is a well-known San Francisco Mexican restaurant. This Mission District institution specializes in serving quality Mexican food and Mexican catering in San Francisco and the Bay Area.
###