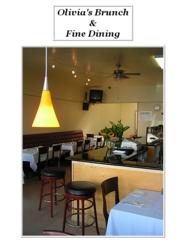 I still cannot believe how inexpensive this place is and how terrific the quality of everything they serve
San Francisco, CA (PRWEB) December 20, 2011
Chef Hilario Chico came to San Francisco in 1984 from Puebla, a small town south of Mexico City. Chef Chico worked in many fine local restaurants including Tadich Grill and One Market. After gaining unparalleled skills and experience in the restaurant business, he decided to team up with Chef Jose and started Olivia's Brunch Fine Dining Restaurant. Chef Jose came to the United States from Mexico in 1990. His restaurant career started at Moose's Restaurant and continued at El Colonial.
San Francisco Mexican Food restaurant, Olivia's Brunch and Fine Dining serves breakfast, Sunday brunch, lunch and dinner with a great beer, wine and champagne selections. Come for brunch and indulge in delicious cuisine like waffles with fresh strawberries and whipped cream or a California omelet consisting of tomato, avocado, scallion, and pepper jack cheese.
Their lunch and dinner menus feature house specialties like mole poblano, or a light sopa de mariscos, a delicious seafood soup to cure that winter cold. For heartier dishes, try their New York steak with red wine batter, vegetables and mashed potatoes, or grilled king salmon with lemon butter and capers served with mashed potatoes and vegetables. They also have a fantastic kids menu as well as delicious desserts like flan and chocolate mousse.
"I still cannot believe how inexpensive this place is and how terrific the quality of everything they serve," comments a recent customer of Olivia's Brunch and Fine Dining.
For more information on Olivia's Brunch and Fine Dining, call (415) 529-5114 or visit them online at http://www.themenupage.com/olivias. Olivia's Brunch and Fine Dining is located at 3771 Mission St., San Francisco, CA 94110.
About Olivia's Brunch and Fine Dining
Olivia's Brunch and Dining Restaurant in San Francisco serves excellent American, Californian and Mexican cuisine with the highest quality ingredients and friendly service. They also offer catering services for private events like business meetings, weddings, birthdays and more. Their in-house facility can accommodate up to 40 people. They can also cater off-site for up to 300 people.
# # #