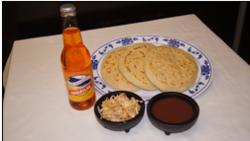 Customers can gather for a unique and exquisite dining experience
San Jose, CA (PRWEB) September 08, 2011
If people enjoy authentic Salvadoran and Mexican food, they will surely enjoy San Jose's Restaurante Monte Alban and all they have to offer. Enjoy a delicious and warm pupusa, a traditional Salvadorean dish, or a delicious mole from the Oaxacan region.
Open since December 2010, Restaurante Monte Alban announces they have served San Jose residents with affordable prices and classic, homemade dishes. Monte Alban is the San Jose Mexican restaurant to dine at. Restaurante Monte Alban also provides catering services for business and private functions.
"Customers can gather for a unique and exquisite dining experience," said Felipe Hernandez, one of the owners of Restaurante Monte Alban. "Come and enjoy our Oaxaqueña cuisine like our variety of moles, Tlayuda or Salvadorean cuisine such as the famous pupusa."
The most notable aspect of Oaxacan cuisine is its variety of moles, a type of complex sauce such as chile mulato, tomatoes, peanuts, avocado leaves, and chocolate were incorporated. While moles can be found in many parts of Mexico, Oaxaca has the greatest variety including negro (black), Colorado (red), coloradito (faint red), verde (green), amarillo (yellow) to mention a few.
Another one of Restaurante Monte Alban's famous dishes are pupusas of course, El Salvador's staple food. A pupusa is a thick, handmade corn tortilla delicately filled with a unique blend of savory fillings such as cooked pork, seasoned beans, a mixture of aged and fresh cheese or other fillings, and then placed on a hot griddle until the crust turns golden. They are served with generous topping of curtido, a tangy cabbage slaw lightly spiced with red chilies and vinegar, and then a generous amount of salsa is added as a grand finale.
Customers will also enjoy Restaurante Monte Alban's decor and vibrant colors of the place that gives a welcoming feeling. The food is rich in flavor. If anyone is interested in tasting Oaxaqueña & Salvadoreña food, this is the place to go to. The food, service, and atmosphere are great.
Felipe Hernandez and Dorotea Oropeza, owners of Monte Alban have 17 years of experience in the restaurant business. They also provide catering service in San Jose. Monte Alban can cater events small and large, from corporate catering events and retreats, private functions, receptions and more. Featuring the same great Salvadoran and Mexican food on their menu, they can make any event a smashing success with their great food.
For more information on Restaurante Monte Alban, give them a call at (408) 329-9159 or visit them at 960 S 1st Street, San Jose, CA 95110.
About Restaurante Monte Alban
Restaurante Monte Alban is a Mexican restaurant featuring the authentic cuisines from the El Salvador and Oaxaca region of Mexico. They serve traditional dishes such as pupusas from El Salvador and moles from Oaxaca. Restaurante Monte Alban also provides catering services.
###