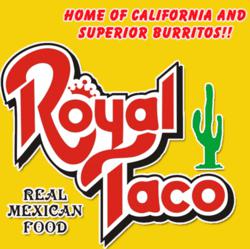 Its tasty and very filling
Milpitas, CA (PRWEB) September 08, 2011
Serving authentic Mexican food, San Jose's, Royal Taco is a must-visit for Mexican cuisine enthusiasts. They feature meals that can satisfy anyone's taste, from breakfast plates to lunch combos at very affordable prices.
Royal Taco is announcing a new entree, the California Burrito. It has everyone's favorite foods together on one plate. The burrito, which is served with French fries, includes carne asada, whole beans, nacho cheese, avocado and pico de gallo rolled up in a flour tortilla. This popular burrito originated in San Diego, but was made more popular by Royal Taco when they added a new ingredient: nacho cheese. Royal Taco is the home of the California Burrito and Superior Burritos.
"Its tasty and very filling," said Jesus Rodriguez, Owner of Royal Taco. "The demand for the California Burrito has increased."
Every California Burrito is made to order. It has the right amount of spice and is made with the freshest and finest ingredients available. Since being added to the menu, Royal Taco's California Burrito has been the talk of the town.
Since 1980, Royal Taco has delivered delicious, authentic Mexican food to San Jose residents. From classics like menudo and custard flan to flautas, tacos and burritos, this Mexican restaurant has it all. Royal Taco has everything anyone could want in a Mexican restaurant –delicious food, an extensive menu, classic flavors and the California Burrito, a Northern Californian specialty made from a secret family recipe.
For more information on Royal Taco, call 408-627-8210 or visit them at 1469 Landess Ave. Milpitas CA 95035.
About Royal Taco:
Royal Taco features authentic Mexican food in their Milpitas location. An established business in the San Jose area, they feature great burritos and tacos, along with many traditional Mexican dishes. Royal Taco also provides catering services.
###