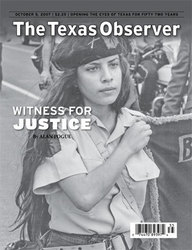 Austin, Texas (PRWEB) October 12, 2007
New stories from The Texas Observer tell of a jawbone and a strange death on the border, a man released from prison after serving 19 years for a crime he did not commit, photographic excerpts from photographer-documentarian Alan Pogue's "Witness for Justice," and an editorial about Iraq entitled "Molly's Last Crusade." We also review Norman Pearlstine's new book on journalistic sources and listen to Los Lobos at a music festival in Midand that may give a glimpse of the state's demographic future and growing Hispanic cultural influence.
Feature -- WITNESS FOR JUSTICE
Documentary photographer Alan Pogue's new book, Witness for Justice, chronicles his lifelong work -- arresting photos that bring viewers closer to the lives of ordinary people around the world who have fought for social justice. Pogue has selected some photographs for this Observer feature and writes an accompanying narrative about the philosophy that underlies his work.
Full Story at Witness for Justice
Feature -- THE JAWS OF LIFE
Authorities gathered most of Cristobal A. Puente Gallardo's corpse -- a few leg bones and vertebrae, and a jawless skull. They reasoned that Puente died from heat, dehydration or some other natural cause as he made the trek from Mexico through a vast South Texas ranch. Whether through haste or oversight, the jawbone was left behind and it ended up sitting on an end table in the home of ranch caretaker Raymond Lazarski. Lazarski found something unsettling about the jawbone. It was mangled and bore marks that might have come from an assault. Maybe it wasn't heat that killed Puente.
Full Story at The Jaws of Life -- Immigration and the Border
Editorial -- MOLLY'S LAST CRUSADE
One of Molly Ivins' last mortal acts was to exhort every one of us to take some action every day to halt the madness in Iraq. Thirteen Republican members of Congress are standing in the way.
Full Story at Molly Ivins' Crusade on Iraq
Political Intelligence -- SCHOOLYARD BULLIES
Demolished In Denison A group of Denison residents and preservationists from around the state have been fighting city officials to save a high school built in 1913, which is listed on the National Register of Historic Places. At press time, roughly 60 percent of the structure had been destroyed, and wrecking crews planned to bring down the rest soon. Bully For Them State representative Dennis Bonnen is a bully, and interest group Environmental Defense has begun fighting back. Last session, Bonnen, who chairs the House Committee on Environmental Regulation, killed 15 pollution-reduction bills by simply refusing to give them a hearing. Center-ism If cutting-edge analysis was what they expected, the folks who showed up for the LBJ School conference on the Hispanic impact on American politics and government came away sorely disappointed.
Full Story at Schoolyard Bullies and Enviornmental Defense
Books & the culture -- JOURNALISM IN THE TWILIGHT ZONE
In Off the Record: The Press, the Government, and the War over Anonymous Sources, Norman Pearlstine tells his version of events of the leak-and-smear campaign to out CIA covert agent Valerie Plame, while looking at the current problems with Washington journalism. Review by Myra MacPherson.
Full Story at Journalism in the Twilight Zone -- A Review of Norman Pearlstine's New Book
Commentary -- DEMOGRAPHIC DESTINY
Jake Bernstein discusses his trip to Midland to catch a glimpse of the Texas of tomorrow -- and to hear some good music -- at the third annual Sabor Midland music festival.
Full Story at Demographic Destiny and Hispanics in Texas
Afterword -- A GENTLE SOUL, UNBROKEN BY INJUSTICE
Cynthia Hall Clements writes about her interview with Billy James Smith, who was released from prison one year ago after serving 19 years and 11 months for a crime he didn't commit. Today, at 55, Smith is a man in purgatory, exonerated by the legal system but not pardoned by Gov. Rick Perry, and struggling to catch up with a world that has left him behind.
Full Story at A Gentle Soul and the view of Governor Perry on Pardons
Jim Hightower's column, poetry, our daily blog and more ...
Past stories of interest include DNA testing of an executed prisoner, the campaign by The Texas Observer to release crucial videos from the state government, and some of the best border and immigration coverage in the nation.
New in The Texas Observer
Contact: Julia Austin 512-477-0746.
Copyright, The Texas Observer, 2007.
Links to stories are welcome.
# # #