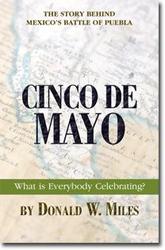 Mexicans begin the September 16th celebration with a proclamation by their president, late on the night of the 15th
Austin, TX (PRWEB) September 11, 2007
This Sunday marks nearly two hundred years since Mexico declared its independence from Spain. All over Texas, festivities will commemorate this event. Over 41 million Americans are Hispanic today, and one-quarter of the U. S. population is projected to be Hispanic by 2050.
About Diez y Seis
Diez y Seis is a time of celebration for Mexicans and Mexican-Americans.
"Mexicans begin the September 16th celebration with a proclamation by their president, late on the night of the 15th," says Don Miles, author of Cinco de Mayo: What is Everybody Celebrating?
"The holiday is ushered in with parties, similar to those we have in the U.S. on New Year's Eve. Mexicans await the 'Grito,' as it's called, when the president appears on the balcony of the governmental palace in Mexico City's main square. He rings a ceremonial bell, proclaims the holiday, and then the parades and picnics begin the following day. The original 'Grito' was pronounced in 1810 to overthrow Mexico's rule by Spain."
Diez y Seis is frequently confused with Cinco de Mayo which didn't happen for another fifty years. Cinco de Mayo marks the Mexicans defeat of the French in the Battle of Puebla on May 5, 1862.
About Cinco de Mayo, the book, and Don Miles
Award-winning radio journalist Don Miles is the author of Broadcast News Handbook and Broadcast Newswriting Stylebook. Miles is a featured speaker this weekend at the Grand Opening of the Mexican American Cultural Center in Austin, Texas. His book, Cinco de Mayo: What is Everybody Celebrating? (iUniverse, $20.95, History, ISBN 9780595392414) is the first adult book on the subject in sixty years. For more information, visit http://www.donmiles.com.
Media contact:
Stephanie Barko, Literary Publicist
steffercat @ austin.rr.com
512-291-6188
###