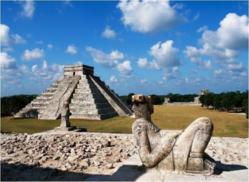 Popular tourist destinations like the Bahamas, Puerto Rico, and Jamaica have far higher homicide rates than Mexico.
Missoula, MT (PRWEB) August 27, 2012
The award-winning travel company Adventure Life has recently added several off-the-beaten-path Mexico tours to its offerings of small group tours to Latin America, including Copper Canyon trekking, Yucatan Explorer, Oaxaca Traditions and Chiapas Adventure. Mexico is an enormous country (roughly the size of Western Europe), which makes providing a comprehensive report about travel safety a challenging task. However, the overwhelming majority of Mexico is a safe and secure travel destination. Of Mexico's 2,500 municipalities, less than 80 are currently recording problems with drug violence. These zones do not include Mexico's popular beach resorts and other key tourist destinations. Follow the links for more information on Mexico travel safety or Adventure Life reviews.
Mexico is nearly seven times the size of New Zealand, and while it is not 100% crime free, to say that Mexico is unsafe is simply false. Only a few targeted regions makeup the volatile areas, with the rest of the country largely unaffected. The violent crime rate in Mexico is higher than in the US, but still significantly less than most of its Central and South American neighbors and many US metropolitan areas.
"Popular tourist destinations like the Bahamas, Puerto Rico, and Jamaica have far higher homicide rates than Mexico," said Adventure Life General Manager Jonathan Brunger. "For example, the Yucatan, which is known for its beaches and Mayan ruins has a rate comparable to Wyoming and Montana, almost none."
Escalated violence has occurred in recent years as a result of the Mexican authorities buckling down on Transnational Criminal Organizations (TCO's). Gun battles between TCOs and Mexican authorities have taken place in towns and cities in many parts of Mexico, but particularly in the border regions that are rarely frequented by tourists.
"Adventure Life reviews every single tour we offered for safety concerns," said Brunger. "Regions with warnings and advisories tend to be along the US border and are not considered tourist destinations."
Despite the recent bad publicity, Mexico's tourism industry is bouncing back in a big way. The Ministry of Tourism announced in February, that 2011 was a record-breaking year in which the country saw 22.67 million international travelers.To help you make an informed decision about traveling in Mexico, here are some facts to consider:
1. The State Department does issue a state by state advisory for Mexico. Please make sure to review it here and take a look at your particular destination to see if any advisories are in effect.
2. According to reports, tourists do not appear to be targets of violent activity.
3. Travelers should keep a low profile in displaying wealth. If you travel with children, do not allow them to wander around alone and limit independent vehicle travel to daylight hours and established routes.
4. Mexico remains one of the most popular tourist destinations for U.S. travelers.
5. FBI crime statistics show that Americans are safer in Mexico than many parts of the U.S. Most Mexico tours and travel packages take place in areas located far from the majority of the criminal activity in the country.
Each traveler has an individual responsibility to diligently research the current safety situation before deciding which regions of Mexico to visit. For more information on Mexico travel safety, Mexico tours, or Adventure Life reviews, call 800-344-6118.
About Adventure Life:
Adventure Life is a company of travelers with a passion for sharing the world with others. Our travel experience runs deep, from years volunteering in rural Africa and Central America, to research trips in Asia, studying in Europe, guiding in the Rockies, and just bouncing around every corner of the world. This deep experience is the reason behind our pioneering approach to travel and award winning itineraries. For nearly 15 years we have been creating personal itineraries that immerse our travelers in the vibrant colors of a place, leaving both our guests and hosts enriched by the experience. From our beginnings as a Latin America specialist, we now offer private journeys, small group tours, and expedition voyages throughout the world. We pride ourselves on our intimate knowledge of our destinations and our dedication to sharing the world. For more information or Adventure Life reviews visit us on Facebook.