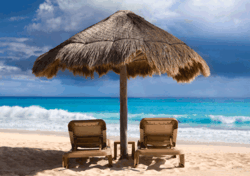 Virtually all online booking companies hide this fee until the end of your check-out to make their prices look better
Zimmerman, Minnesota (PRWEB) May 25, 2012
Representatives with a local travel and vacation site announced today the availability of a new $250.00 sweepstakes.
"This $250.00 sweepstakes offer is good toward anyone's next vacation package booked with us," said Debra Shaver, owner of GMS Vacations. "Unlike most travel site promotions, the best thing about ours is that they don't have to be a customer already to enter."
In addition, Shaver said, GMS Vacations is now offering guaranteed price matching on all Mexico vacation packages.
"You can get the same pricing as the online booking companies with the services of using a travel agency," said Shaver. "If you find a lower price, just give us a call and we will match it."
Shaver explained that unlike most online booking companies, her company offers one-on-one vacation planning with a real person.
"We offer a voice for our customers while on their vacation," Shaver stressed. "If something should go wrong, we will work with the hotel, supplier, or airline to make it right and or fix the problem."
Shaver added that GMS Vacations, which is a Funjet 500 club agency, an award given for selling over 500 vacations with them each year, offers its customers strait forward pricing, no hidden charges, and includes the price of transfers to and from the airport.
"Virtually all online booking companies hide this fee until the end of your check-out to make their prices look better," Shaver noted. "Our travel agents are, Funjet, Pleasant Holidays, Beaches and Sandals, Real Resorts, and many other suppliers certified travel agents."
The best thing about going through GMS Vacations, Shaver said, is that, "Planning a vacation with us will save you both time and money. Plus, we'll handle all your travel arrangements."
For more information about GMS Vacations' sweepstakes, please visit:
http://gmsvacations.com/sweepstakes.asp