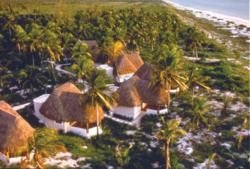 Life is in balance with the return of the American pink flamingo to Celestun Inlet every November.
Celestun, Yucatan (PRWEB) April 30, 2013
Imagine flocks of thousands of pink flamingos engaged in feeding and mating rituals. This natural phenomenon begins in November near Hotel Xixim, located in the Celestun Biosphere Reserve of western Yucatan, Mexico.
Hotel Xixim is an ecologically sustainable nature, yoga and wellness retreat hotel dedicated to the preservation of the pristine natural sanctuary in which it resides, and to the appreciation of all life in balance. This unique Mayan hotel, just one hour west of Merida, Yucatan, is located on a white sand beach six miles north of the Celestun estuary. From November to March, over 50,000 American pink flamingos migrate to this tidewater inlet, creating a pink cloud of graceful movement. The pink flamingos' synchronized motion, during group feeding, herding and courtship behavior, offers nature lovers a spectacle to be seen in only a few places in the world. One cannot help but feel life in balance within nature.
Retreats, groups and families who want to view these flocks of up to 50,000 pink flamingos can plan ahead now for the best rates and offers at Hotel Xixim. The hotel offers guests exhilarating daily boat (panga) tours to see the flamingos and other migratory and endemic birds of Yucatan (over 300 species). November holiday rates for U.S. Thanksgiving and Mexican Revolution Day offer family adventures and savings. For those interested in learning ancient Mayan cooking techniques, a two day class, November 15-17, teaches the art of cooking traditional Mayan cuisine. Yoga teachers can take advantage of lower fall group rates for yoga retreats including free massage for each student participant.
What's so unique about the pink flamingo of the western Yucatan Peninsula of Mexico? The great American pink flamingo lives in social colonies and is the largest and most brilliantly feathered of six flamingo species in the world. This flamingo's bright rose color is due to the aqueous bacteria and beta carotene obtained from its shrimp and algae diet in the Celestun Inlet. Their beaks are designed to filter food and eat it upside-down! The pink flamingos' ritual displays in mating season include actions not unlike humans: neck-stretching, calls while head-flagging or cocking, preening and grooming up to 30% of the time, and flapping their wings to gain attention among their selected group of 15-50, from which a mate will be chosen.
Once females and males choose each other, they usually form strong pair bonds since nests will need to be defended. In April, the flamingo pairs migrate all together a few hundred miles northwest along the Yucatan Peninsula. There, females choose nesting sites to lay one egg, but both males and females defend the nest and feed their chick crop milk. At about 6-12 days old, chicks move out of their nests to check out their surroundings, but congregate in groups for protection. Then in November, the new flamingo families, including juveniles, fly back to the Celestun Biosphere Reserve in large flocks for another mating season. And, the natural rhythm continues.
The timeless seasonal migration of the American pink flamingo, when it is protected and respected, represents life in balance in the natural world. Perhaps there is some analogy between the graceful "present moment" stance of the pink flamingo in Celestun and the practice of yoga and its flamingo-like balancing poses at nearby Hotel Xixim: all life in balance.
About Hotel Xixim
Hotel Xixim has recently expanded to 32 individual beachside Mayan bungalows with porches and hammocks, a new Wellness Center with SPA treatment bungalows and a 43 foot diameter yoga practice pavilion, a juice therapy bungalow, traditional gym, new tree top ocean view bar and library area, a larger restaurant with Mayan-Mexican fusion and vegetarian menus, new outdoor areas for yoga and meditation practice, and a second swimming pool in the Wellness Center. Visit http://www.hotelxixim.com and for assistance in planning a group retreat or event, inquire at groups(at)hotelxixim(dot)com.