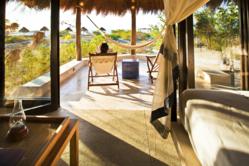 Celebrate the Mayan Calendar New Era 2012-2013 at a Xixim Retreat!
Celestun, Yucatan, Mexico (PRWEB) August 07, 2012
Located on the white sand beaches of Celestun, about one hour west of the city of Merida, Yucatan, Hotel Xixim (which means "sea shell" in Mayan) offers new affordable Mexico group rates and amenities designed especially for yoga and wellness group retreats or teacher training. (http://www.hotelxixim.com). The hotel provides group transfers to and from Merida's international airport. Nonstop flights arrive daily to Merida from Houston and Miami with connections from most U.S. and Canadian cities. Connecting flights are also available via Mexico City.
Hotel Xixim offers incentives to provide for group leader, presenter, or instructor accommodations, meals, and transfers. Depending on the size and interests of the group, local boat excursions are available at a group discount to observe the northern hemisphere's largest pink flamingo population. Complimentary activities include a welcome group juice therapy drink, a group beach bonfire night, one free 30-minute back massage or reflexology treatment, bicycles and kayaks. Guests can also stroll several interpretive nature trails within the nature reserve, observing birds, mammals, and native flora.
Hotel Xixim was designed to accommodate groups of various sizes up to 64 guests on a double occupancy basis. More guests can be lodged on a triple basis. A group is considered 10 guests or 5 rooms. Discounts increase depending on the size of the group. The 32 bungalows, the Wellness Center, and all other Mayan style structures are nestled in tropical coastal vegetation reached by meandering paths, creating privacy for hosting several smaller groups at the same time. The 24 spacious junior suite Mayan bungalows offer two queen beds and the 8 master suite Mayan bungalows provide King beds and a separate sitting area. All have private outdoor showers. Complimentary coffee or tea plus fresh homemade bread is delivered to each bungalow in the morning.
The new Wellness Center includes a yoga or group pavilion with vaulted, thatched roof, 43 feet in diameter with sea views, wooden floor, screens, ceiling fans, props, and electrical connections for music or videos. The pavilion is suitable for up to 30 yoga, Tai Chi, or active dance practitioners. Workshop capacity in this pavilion can accommodate up to 80 people. Additional group facilities for 16-20 are available as well as a second yoga practice area for groups of 25-30. Outdoor sunrise and sunset-facing terraces offer sea views for meditation or yoga practice. All meeting space is complimentary.
Additional facilities in the Wellness Center include a SPA with private massage bungalows, traditional fitness gym, circular pool, round Jacuzzi, oval poolside beds, juice therapy bungalow, and snack bar with vegetarian options. The main restaurant offers international, Mayan-Mexican fusion and vegetarian dishes. Various dining venues are available, both inside with sea views, and outside on sea view terraces.
For "Mayan Calendar New Era" retreat group rates included in a customized group quote, group organizers, yoga instructors, and presenters can contact the hotel at groups(at)hotelxixim(dot)com.